Rihanna's Forgiveness Of Chris Brown Is 'Part Of The Healing Process' Says Domestic Violence Group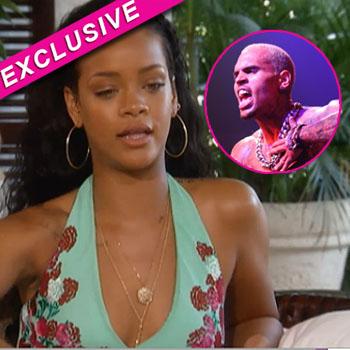 By Debbie Emery - RadarOnline.com Reporter
The surprising interview that Rihanna did with Oprah Winfrey saying that she still loves ex-boyfriend Chris Brown, even after he viciously beat her, has caused concern from fans who worry that she is still under the R&B singer's control, but RadarOnline.com can exclusively reveal that her declaration of devotion for him means that she is moving on from the assault.
"Rihanna's comments demonstrate that people can heal after an abusive relationship. Her ability to forgive Chris Brown demonstrates that forgiveness and peace are part of the healing process," Angela Hale of the National Domestic Violence Hotline told RadarOnline.com in an exclusive interview Monday.
Article continues below advertisement
"In all relationships, your first love always has a special place in your heart," she said. "In abusive relationships, there are parts of those relationships that are good. That is why it is so hard for women to leave an abusive relationship, because they remember the good times. But, everybody deserves self respect and the right to a healthy and loving relationship, free of abuse," she explained.
As RadarOnline.com previously reported, the 'S&M' singer, 24, opened up in her appearance on Oprah's Next Chapter about her oft-speculated relationship with Brown - she says they're currently "very close friends" - after he famously beat her in February of 2009.
"We built a trust again and that's it," the 'Umbrella' singer, who said she's single, told Oprah on Sunday's show. "We love each other and we probably always will."
Hale went on to tell RadarOnline.com, "We hope Chris Brown has taken responsibility for past behavior. People can change, and we sincerely hope he has received the help he needs to change."
The hot-tempered hip-hop star received five years of probation, community labor and one year of domestic-violence counseling in connection with the vicious beating. His career initially stumbled, but has recovered since the incident, as he collected a Grammy this year.
Article continues below advertisement
Right after the incident -- amid reports RiRi and Chris had briefly reunited -- Oprah famously took to the airwaves to warn the Barbadian Beauty, "If a man hits you once, he will hit you again!"
Chris Brown Gives Miami Fan A Sexy Lap Dance
The full interview was on Oprah's Next Chapter, which airs on Winfrey's new network, OWN, on Sunday evenings at 9pm.
If you or someone you know is in an abusive relationship, please contact the National Domestic Violence Hotline at 1-800-799-SAFE (7233) or go to the TheHotline.org.