Rashida Jones Urges John Travolta To 'Come Out' Of The Closet 'Let's Do This!'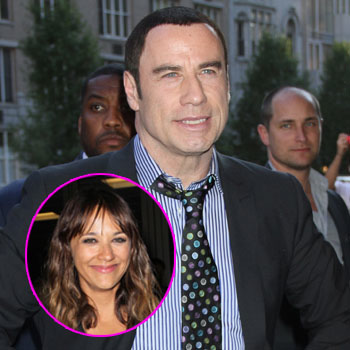 Article continues below advertisement
Her writing partner and former boyfriend Will McCormack said: "There needs to be, like, a professional athlete that comes out."
That's when Rashida jumped in saying: "And a movie star! It's time…Like John Travolta? Come out! Come on. How many masseurs have to come forward? Let's do this."
As RadarOnline.com previously reported, the 58-year-old married dad has been at the center of a sex scandal after a series of masseurs alleged he sexually assaulted them.
There were also rumors that he allegedly had a six-year affair with his male pilot.
Now Rashida says the actor should follow in the footsteps of newsman Anderson Cooper and Frank Ocean and "come out."
After praising them for taking the big step, she said: "But big stars need to come out. Ricky Martin was huge. That was big; I was really happy about that."
And if John Travolta does "come out" Rashida wants him to do it while he is alive rather than have it revealed after his death.