Rashida Jones: 'Michael Jackson Was An Alien'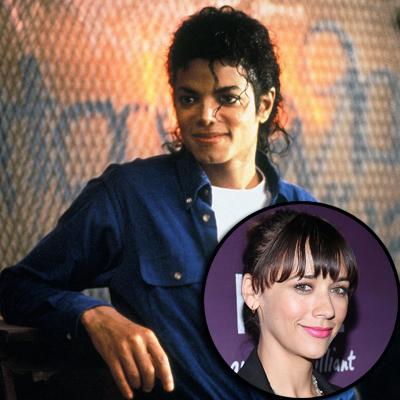 Michael Jackson was "an alien", according to Quincy Jones' daughter Rashida Jones.
The 35-year-old Parks and Recreation star grew up around the late pop superstar because of his close friendship with her father -- who produced Michael's three classic albums, Off The Wall, Thriller and Bad -- and she admits his eccentric personality and kind nature were out of sync with the rest of the world.
Article continues below advertisement
She told Playboy magazine: "Michael basically grew up with us, so I have a million memories of him. We were at each other's house all the time. He was definitely a little bit of an alien, for sure, and when I was young, it felt as if he was my age, not 18 years older, but with just a little bit more pep."
When Rashida got older she would hang out with Michael and she has revealed the Black or White singer loved to drive around secretly squirting strangers with water pistols.
The actress added: "Later in my life, we'd go out on the town together. He always wore those surgical masks. Once, my sister, Michael, Emmanuel Lewis and I got in a car with Super Soakers and went by a movie theatre and supersoaked the hell out of people waiting in line. They had no idea they'd just been supersoaked by the King of Pop."
RELATED STORIES:
LIVE STREAM: Dr. Conrad Murray On Trial In Michael Jackson's Death – Watch It Here Live