John Lennon's Killer Granted 48-Hour Conjugal Visit As He Awaits Parole Hearing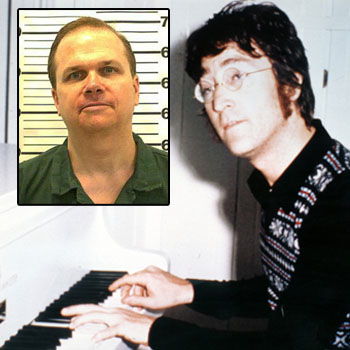 Article continues below advertisement
Chapman and his wife previously had conjugal visits as part of the "family program" when he was detained in the maximum security Attica Correctional Facility, but he had to reapply for the privilege after being transferred in May and was approved on Monday.
It is a rare treat for the man who broke the hearts of millions of Beatles fans when he gunned down the music legend on December 8, 1980, outside the Dakota Hotel in New York City. After firing five bullets into Lennon, Chapman reportedly remained at the scene reading The Catcher In The Rye by J.D. Salinger until the police arrived.

Upon his arrest, the troubled man told officers, "I'm sure the large part of me is Holden Caulfield, who is the main person in the book. The small part of me must be the Devil." Chapman, now 57, was sentenced to 20 years to life in August 1981, with the judge ruling that he receive psychiatric treatment.
Mark and Gloria were wed in 1979 – a year before he assassinated Lennon and have spent most of their married life with him behind bars, but will enjoy a snippet of privacy in their upcoming love shack, which is free of prison guards and cameras, has a kitchenette, a living room and at least two bedrooms.
Article continues below advertisement
While some critics believe it is unfair that a murderer gets such a special privilege, the rare weekend of passion has wide-spanning benefits according to staff.
"We know it has beneficial impact on the inmate both for their behavior on the inside and for their eventual reentry into society," said state prison system spokesman Peter Cutler.
Chapman's next parole hearing is due any day, his last application in September 2010 was denied.