Honky Tonk Women: Wives & Girlfriends Of The Rolling Stones At Odds, Book Claims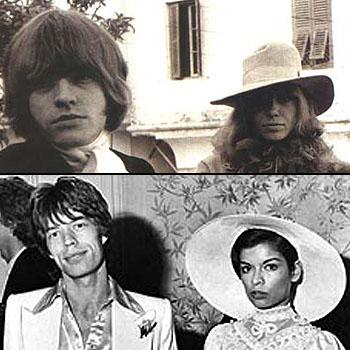 While the Rolling Stones were making timeless music, their better halves were in a constant state of disharmony.
This according to the best-selling book BackStage Pass VIP, in which author Debra Sharon Davis details the tension between the lady loves of the British rock legends, fueled by sex, drugs and jealousy.
One longstanding rift was between Mick Jagger's wife Bianca and Keith Richards' longtime girlfriend Anita Pallenberg, Davis writes. Bianca -- spurred by bitterness over the surprise prenuptial agreement Mick popped out before their wedding -- loved to stir the pot among the women.
Article continues below advertisement
"The newly married, pregnant Bianca was said to be jealous of the familiarity between Anita and Mick Jagger," Davis writes. "Musicians' wives recalled that Bianca was led to believe that Jagger and Anita, who had been a top model, had once been lovers. Bianca, educated and refined, held herself above the other women and many recalled back then she liked spreading vicious rumors to provoke infidelities and ignite friction between the rockers and their women."
Davis said that during the early 1970s, Bianca was incensed that Anita had much closer access to the band than she did.
She said that wary "musicians, their wives and girlfriends believed that Bianca and Anita could ruin their careers by spreading rumors to Jagger and Richards," and that they would "either tried to avoid the women or placate them" to avoid getting hit with the shrapnel.
One tale about Anita, in particular, illustrates the excesses of both wealth and emotion in the early 70s as the Stones recorded Exile on Mainstreet at a rented 19th century mansion in France. During one group dinner, a then-drug-addled Anita had a messy meltdown still talked about to this day.
Article continues below advertisement