Kristen Wiig Bids Emotional Goodbye To SNL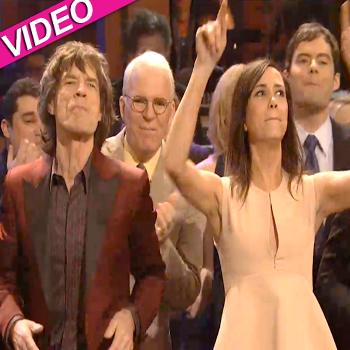 Tears and genuine emotion are rarely seen on Saturday Night Live but that changed last night with what appeared to be the final appearance of Kristen Wiig.
In a sketch that began with guest host Mick Jagger playing the head of a school bidding farewell to his students in their caps and gowns, Kristen is called to the stage to be congratulated even though it took her "seven years to graduate."
Article continues below advertisement
Jagger then serenaded Wiig with renditions of She's a Rainbow and Ruby Tuesday while every member of the SNL cast, producer Lorne Michaels, and former SNL regulars Amy Poehler and Steve Martin came out to dance with their beloved friend.
Wiig, who co-wrote, co-produced and starred in Bridesmaids, tried nightly to hold it together but her tears beams increasingly evident as the sketch went on.
She never said a word throughout the bit.