Eddie Murphy And Drew Barrymore Named Most Overpaid Actors In Hollywood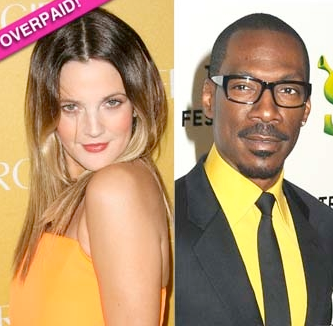 He may be hosting next year's Oscars, but Eddie Murphy has been named the second most overpaid star in Hollywood!
The Shrek star follows right behind actress Drew Barrymore who tops the list bringing in just $0.40 for every dollar she's paid. Ouch!
Eddie fares considerably better providing a $2.70 return for every buck in his pay check, but he's still the most overpaid male on the list, with flops like Meet Dave not setting the box office alight.
Article continues below advertisement
Forbes Magazine compiled the list of Hollywood's Most Overpaid Actors did the math.
The business mag also put Will Ferrell, Reese Witherspoon and Denzel Washington on the unenviable list with films Land of the Lost, How Do You Know and Unstoppable all being scars, respectively, on their careers.
Funnymen Adam Sandler and Vince Vaughn are surely not making studio execs laugh much these days as they came in seventh and eighth place – both bringing in $5.20 per dollar earned.
And former couple Tom Cruise and Nicole Kidman round up the top ten with just over six dollars return on investment.
The list took into account the last three non-animated movies each star made in the past three years.
For every $1 these stars get paid they make the studios...
RELATED STORIES: