What Would It Be Like To Have John Lennon, Keith Richards Or Mick Jagger As Your Dad?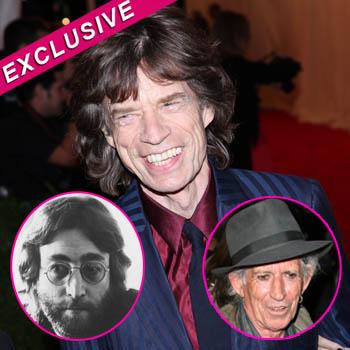 John Lennon, Keith Richards, Mick Jagger: Rock legends . . . Cultural Icons . . . Dads.
The bestselling book BackStage Pass VIP details what it's like for the kids of all three, even as they produced priceless music, toured the world and engaged in the type of behavior the term "Party like a rockstar" comes from.
Let's start with Mick: the Stones frontman, according to the book's author Debra Sharon Davis, absolutely doted on daughter Jade, whose mother was his ex Bianca.
Article continues below advertisement
"During his daughter's first birthday party guests were astonished as they watched Jagger sitting on the floor tenderly playing with Jade and helping her organize her gifts," Davis writes. "Some years later, he had Stones office workers frlantically researching top-of-the-line educational brand toys for his child.
"He might have made a living being a rock rebel but behind his public façade, he was a concerned and loving parent and didn't let his divorce from Bianca hinder his relationship with his daughter."
That leads us to Keith: the guitarist, despite a drug addiction, "managed most of the child care duties for his nearly 2-year-old son, Marlon" … including "feeding him, bathing him, dressing him and taking him sailing … somehow, he was able to transcend his habit to care for his child."
One tale consists of "Richards lying on the floor at Christmas, a hash cigarette hanging from his mouth while he was awkwardly stringing pop corn for the Christmas tree and fumbling to put a train set together for his son -- who was probably too young to even know what was happening."
Article continues below advertisement
As for the Beatle, the late singer Harry Nilsson remembered the time when a frazzled John saw Julian, his child with ex-wife Cynthia, for the first time in three years.
"John was nervous about seeing his boy again because he was worried his son would ask him questions he wasn't prepared to answer. He also resented having to pay to fly his ex-wife with his son and then put her up with his boy at the Beverly Hilton. Originally, he had wanted his small son to fly from England alone without his mother.