John Lennon's Killer Didn't Target The Beatle: 'He Was Simply The Most Famous Person I Knew Of'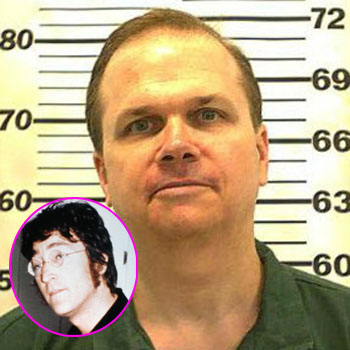 Article continues below advertisement
He went on to reveal that he had a list of six or seven potential targets, including Johnny Carson, Elizabeth Taylor and actor George C. Scott. "Lennon just happened to be the most famous.
"I would like Mrs. Lennon to really know that," Chapman said. "I think it would help somewhat that it wasn't anger. It wasn't anything against her husband as a person, only as a famous person. If he was less famous than three or four other people on the list, he would not have been shot."
As RadarOnline.com previously reported, the 57-year-old broke the hearts of millions of Beatles fans when he gunned down the music legend on December 8, 1980, outside the Dakota Hotel in New York City. After firing five bullets into Lennon, Chapman reportedly remained at the scene reading The Catcher In The Rye by J.D. Salinger until the police arrived.
Upon his arrest, the troubled man told officers, "I'm sure the large part of me is Holden Caulfield, who is the main person in the book. The small part of me must be the Devil." Chapman pleaded guilty to second degree murder and was sentenced to 20 years to life in August 1981, with the judge ruling that he must receive psychiatric treatment.
Article continues below advertisement
Many assumed that Chapman had specifically targeted the Imagine singer because when the former maintenance man left work before the assassination, he signed his name as John Lennon.
"I remember that distinctly. It was kind of a way of saying -- it was kind of a warning. I didn't think I was John Lennon," he explained to the parole board.
Chapman even contemplated abandoning his deadly plan when earlier in the day he met Lennon, who had been kind and patient with him by signing his album cover, sparking an "inner struggle" for his future killer.
"It wasn't all totally cold-blooded, but most of it was," he said. "I did try to tell myself to leave. ''I've got the album, take it home, show my wife, everything will be fine.' But I was so compelled to commit that murder that nothing would have dragged me away from that building."
Ultimately, as the tragic history of rock reveals, Chapman went through with his sinister crime and has since decided that it was "a very selfish act" and "absolutely not worth it."
Article continues below advertisement
Despite the killer's regret, the parole board denied his application. "You shot and killed an innocent victim, an international music star," they wrote to Chapman. "Your actions clearly demonstrated a callous disregard for the sanctity of human life.
Bizarrely, he doesn't seem dismayed at the rejection and revealed in the interview that after 32 years behind bars he is happy to spend the rest of his life at the maximum security Wende Correctional Facility in Alden, New York.
"I'm so bonded that I could probably assure you that, if released, I'd probably stay right where I'm at," explained Chapman. "You know, once you stand on a rock for 20 years and feel the waves on you and you don't go anywhere because you're on a rock, you don't want to move."
While serving his sentence Chapman has turned his devotion from J.D. Salinger to religion, and claims that God performed a secret miracle for him days earlier that was so important and great that "I cried for half an hour."
Article continues below advertisement
He also credited God with changing him from "Mr. Psychopath" to someone who cares about others.
If he had been released, the killer had been offered a place to stay and a job from a New York minister who he corresponded with from prison.
"There's a fellow in Medina, New York and he's a minister and he's an older fellow and he has a lot of contacts in the area and he has agreed to refurbish his upstairs apartment for me and offered me two jobs," Chapman said, explaining that his first job would be to cut down diseased ash trees.