Pet Chimp Who Mauled Charla Nash Slept With Owner 'Every Single Night'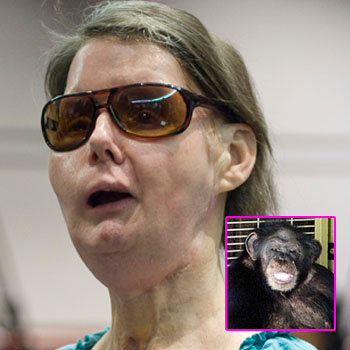 Travis -- the chimpanzee who left Connecticut woman Charla Nash blind and disfigured in an infamous Feb. 16, 2009 attack -- slept with his owner "every single night," ate special sweet potatoes and got taken for rides all over town, according to testimony from the chimp's late owner.
The info comes as officials in Hartford determine whether Nash can move forward in her $150 million lawsuit against the state for negligence (in not confiscating the chimp from the home of its late owner, Sandra Herold).
Article continues below advertisement
Herold opened up about the chimp's conditioning in an April 2010 deposition, just a month before her sudden death from a ruptured aortic aneurysm.
Herold said the chimp slept in her bed with she and her late husband "every single night … from the day he was brought home until the day he died."
One hotpoint of controversy centers around whether then-Stamford Mayor Dannel P. Malloy (now the Governor of Connecticut) warned Herold to keep the chimp restrained after it dashed out of Herold's SUV in October 2003 and caused a minor ruckus on the streets before getting back in Herold's car and putting its seatbelt back on.
Herold testified Malloy told her, "San, do me a favor? Don't let him get out again," in the wake of the incident, though the governor denies any discussion took place.
Nash, who currently resides in a Massachusetts rehab facility, was expected to be present at the hearing, according to her attorney. Sporting a rebuilt face, Nash has also filed a $50 million lawsuit against the late Herold's estate.
Herold testified that Nash used to work for her doing chores, many of them based around taking care of the chimp, for about $300 a week in cash. The chimp was killed by police in the wake of the attack.