On 3rd Anniversary Of His Death, DJ AM Is Remembered By Travis Barker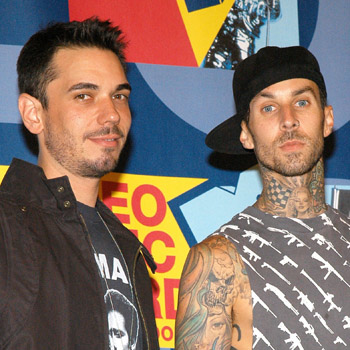 Nearly three years after losing his best friend and creative collaborator, DJ AM, to a drug overdose, Travis Barker remembers the time they spent together fondly.
In the August 2012 issue of The Red Bulletin, the Blink 182 drummer reminisces about how his relationship with the late DJ, also involved in the tragic 2008 plane crash that took the lives of four people, evolved.
"It was the most fun I'd had in forever," Barker reveals about the duo's innovative DJ and drummer collaboration.
Article continues below advertisement
"I never heard of a live drummer and DJ playing together ever. I came to AM when Blink had broken up and said, 'Let's do something, man. Let's kick a new f***in' door down.' We didn't know what we were going to do. He brought his turntables, I brought my drum kit, and we just jammed."
AM, real name Adam Goldstein, died August 28, 2009 of what was ruled to be an accidental drug overdose.
Though Barker is still mourning his pal, don't expect any DJ AM holograms popping up on the band's European tour.