Tupac Shakur Hologram Going On Tour?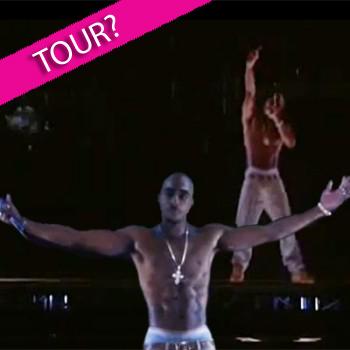 The Tupac Shakur hologram might be on the move.
The rap icon's posthumous performance alongside Dr. Dre and Snoop Dogg at the Coachella music festival garnered so much attention, RadarOnline.com has learned premature talks have taken place to launch a stadium tour featuring the rappers, as well as A-list acts such as Wiz Khalifa, Eminem and 50 Cent.
The hologram of Tupac was created by Digital Domain, whose chief creative officer El Ulbrich said the company produced it in four months — and shockingly, didn't use any concert or archived footage to put together their illusion.
Article continues below advertisement
"This is just the beginning. Dre has a massive vision for this," Ulbrich told the Wall Street Journal.
"To create a completely synthetic human being is the most complicated thing that can be done."
As we previously reported, the hologram triggered a series of trending Twitter topics such as #nowthat2pacsback, #HolographicTupac, Pac and Snoop Dogg, among others.
Famous faces at the festival impressed by the technological innovation included Katy Perry, who wrote she "might have cried," while Rihanna tweeted, "#TupacBACK#unbelievable #IWASTHERE #STORY4myGrandKidz."