Travis Barker Was On 19 Bipolar Meds After Horrifying DJ AM Plane Crash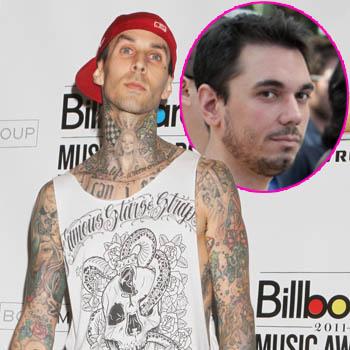 By Amber Goodhand - Radar News Editor
Not only is Travis Barker still traumatized from an airplane crash and the death of his best friend DJ AM, but the Blink 182 drummer now reveals that he was on 19 bipolar meds afterwards and recently found out he has a condition called Barrett's esophagus.
Travis, 36, admits he used to smoke marijuana to alleviate his anxiety, but gave up the meds, the weed and alcohol and has been completely sober for three months.
Article continues below advertisement
"I used to love smoking weed. Especially after my accident, I got off my 19 bipolar medicines and all the stuff they said I'd be on for the rest of my life and I would smoke weed at night if I had anxiety," Travis said in the August 2012 issue of The Red Bulletin.
"I always thought I'd be able to do that for the rest of my life, but when your health is on the line, you don't f*ck around."
Travis had an endoscopy three months ago where doctors found his esophagus had become pre-cancerous and that's when he said he committed to turning his life around.
"They found that I had six ulcers, and I had a condition that's called Barrett's esophagus, which is basically from really extreme acid reflux or if you excessively smoked, your esophagus lining becomes pre-cancerous," he explained.
"Right then and there I changed my whole life around… It's irreversible, which is what sucks. For me it was an awakening. I was already healthy. I was already a vegan. I would mess up from time to time, but I'm happy to say I'm three months completely sober and I plan on staying that way the rest of my life."
Article continues below advertisement
Along with getting healthy, Travis is also determined to get over his fear of flying — which he hasn't done since his 2008 plane crash.
"It's something I want to overcome for me, and my kids are scared to death to fly. I want them to witness me overcome it," he told The Red Bulletin.
"I've got to get over it, man. I could simply say I'm not going to fly for the rest of my life. I'm not going to. It's something I honestly want to try to put behind me."