Exclusive
Behind Rupert Murdoch's Anti-Scientology Comments: He's Best Pals With Nicole Kidman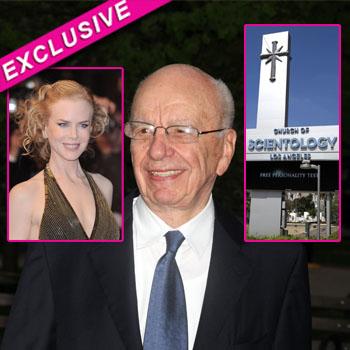 by Radar Staff
Media mogul Rupert Murdoch created a TomKat divorce side controversy when he Tweeted a missile against "creepy" Scientologists and while many explanations have been offered for the abrupt attack, a source close to the situation tells RadarOnline.com it's simple: Rupert and wife Wendi are closer than close with fellow Aussie Nicole Kidman and her hubby Keith Urban.
Just two days after news broke of Cruise and Holmes' separation, Murdoch Tweeted:  "Scientology back in news. Very weird cult, but big, big money involved with Tom Cruise either No. 2 or 3 in hierarch."
Article continues below advertisement
He later Tweeted:  "Watch Katie Holmes and Scientology story develop. Something creepy, maybe even evil, about these people."
"Rupert and his wife Wendi are best friends with Nicole and Keith," a source close to the situation told Radar. "They are always together when Nicole and Keith are in New York."
Some might consider the Tweet a favor to a pal, the source added.
Wendi's friendship with Nicole is close and has been well documented. The couple's friendship bond is even closer than anyone knew, the source adds.
"Wendi sometimes sends out Rupert's tweets," the source said, adding that Nicole's feelings toward Tom remain clandestinely hostile behind her public silence.
And while Nicole had nothing to do with the anti Scientology tweet, everyone appreciates a little help from their friends!
RELATED STORIES:
Tom Cruise Going To Court To Seek Temporary Visitation Of Daughter Suri