With Mediocre Sales, Rielle Hunter Book Tour On Hold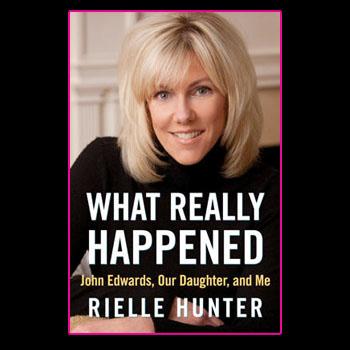 Rielle Hunter's memoir What Really Happened has sold a mediocre 6,000 copies despite a major media blitz to promote it, stalling a possible book tour John Edwards' former mistress might have embarked on with brisker sales.
"Rielle's book tour has not been canceled," Hunter's rep told the NY Post. "She completed her scheduled media appearances, and there are still requests that she's considering."
Article continues below advertisement
Publishers Weekly told the paper that while initial sales of the BenBella Books release were enough to land Rielle a spot on the New York Times best-seller list, the overall sales haven't been "big enough to make the major New York houses sorry" for not releasing the book.
In the book, Rielle expresses little remorse about sleeping with the then-married Edwards, despite his 30-year marriage to the late Elizabeth, who was battling cancer at that time.
"Because there wasn't any physical or emotional intimacy between Johnny and Elizabeth, I had absolutely no jealous feelings about her," Rielle wrote, noting while she "felt miserable for Elizabeth and what she must be experiencing, her loyalties were with Johnny."
As we previously reported, the book is full of details about their sexcapades, as well as the tidbit that John told her he'd kept with at least three other mistresses in cities nationwide.
MORE ON:
hollywood happenings
Article continues below advertisement
In January 2010 -- following a blockbuster investigation by the National Enquirer -- the two-time presidential candidate finally admitted publicly that he'd fathered a daughter out-of-wedlock with his former mistress. Shortly after his admission, John and his late wife Elizabeth legally separated. Elizabeth died that December after a 6-year battle against breast cancer.
RELATED STORIES: