Exclusive
Right Wing Group Slams Miley Cyrus' Trashy Twit Pic, 'She's A Hollywood Sponsored Sex-Pot'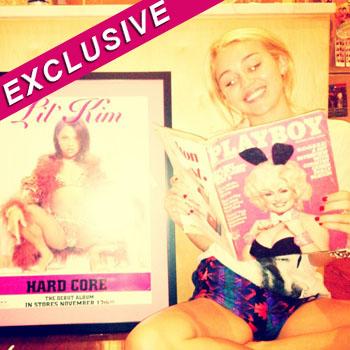 By Debbie Emery - RadarOnline.com Reporter
Classy move, Miley!
In her on-going campaign to sex-up her image and break away from her Disney background, Miley Cyrus reached a new low on Thursday by posting a trashy staged photo on Twitter, and a prominent right wing group are slamming the former Disney darling, RadarOnline.com is exclusively reporting.
Posing holding a classic issue of Playboy magazine, the 19-year-old Hannah Montana star wore teeny colored shorts with her legs splayed out, with the raunchy cover of rapper Lil Kim's debut album Hardcore next to her.
Article continues below advertisement
While most of Miley's over 607,000 followers may well just be totally bemused by the bizarre picture, it is being slammed by right wing and family values groups for porting an overtly sexual message to her young fans.
"Miley Cyrus continues to be the very opposite of a role model to her young fans," Dan Gainor of the Culture and Media Institute exclusively told RadarOnline.com. "She has gone from playing Hannah Montana to a real life self-confessed 'stoner' whose videos look like she's selling herself, not her music."
"Remember, this is the same Miley who went pole-dancing on the Teen Choice Awards when she was 16. Promoting Playboy at 19 is nothing new!" he went on to say, however Gainor doesn't blame the newly-engaged teen for her actions, but instead points the finger at her upbringing.
"Clearly it is not all Miley's fault. She was raised in Hollywood, where manipulating young actresses is commonplace. Savvy starlets learn at a young age that they are selling sex to our children and the more they do it, the better entertainment media respond. Parents need to understand that the teen girls their children admire will likely turn into Hollywood-sponsored sexpots before they turn 21."
Article continues below advertisement
Forget Your Pants, Miley? Cyrus Shows Off Her Skinny Legs In Tuxedo Jacket