Right Wing Group Slams Glee For Teenage Gay Sex Scenes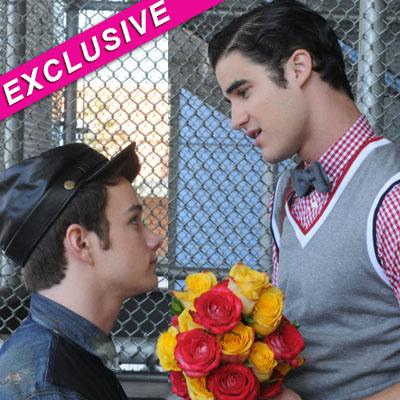 Glee broke prime time television boundaries by suggesting that two gay teenagers had sex for the first time and the controversial episode is causing outrage among right wing groups, RadarOnline.com has exclusively learned.
On Tuesday's episode entitled The First Time, Chris Colfer's character, Kurt, seemingly had sex with his boyfriend Blaine, played by Darren Criss. Although the two were never shown in the act, viewers saw them sweetly laying down next to each other after earlier discussing having their first time together and the inference was clear. (In the episode, the straight characters of Finn, played by Cory Monteith, and Rachel, played by Lea Michele, also had their first time.)
Article continues below advertisement
"These are allegedly high school kids. This show already hyper sexualizes everything they do," Dan Gainor of the Culture and Media Institute told RadarOnline.com in an exclusive interview. "Now they are teaching teens around the nation that having sex at that age is OK.
"This is just the latest example of Glee creator Ryan Murphy pushing his own personal pro-gay agenda on the American public -- this week alone including gay teen sex and a gay bar," he went on to say.
"Is this really a high school show or Murphy's twisted fantasy life?" asked Gainor.
Colfer -- who's won a Golden Globe and has been nominated for two Emmys for his role as Kurt -- said he wasn't surprised that television watch dogs had gotten their hackles up over the November 8 installment.
"I absolutely expect to hear from them," he told Entertainment Weekly.
"But I think it's handled very sweetly and very emotionally…They're expecting this big, raunchy, suggestive, brainwashing story line when really it's very sweet."
Article continues below advertisement
Colfer admitted that even he was nervous about shooting the delicate situation, but was relieved that it didn't live up to his fears.
"It was much tamer than even I was expecting. My imagination went all over the place. I think everyone is going to walk away from it wishing their first time was like that," he said, adding: "We kissed and rolled around a bit."
However, the Culture and Media Institute take it far more seriously and have criticized Glee for waging "a relentless campaign of liberal propaganda and pushing the boundaries of what's acceptable on broadcast TV."
In an article on the Media Research Center's website the group points out that Murphy, has been "outspoken in his desire to push the envelope regarding sexual matters."
The Glee creator reportedly told Bravo's Sex In The Box in a prior interview, "It's tough to get that sexual point of view across on television.
"Hopefully I have made it possible for somebody on broadcast television to do a rear-entry scene in three years. Maybe that will be my legacy."