Meet Connor Smith – The Teen Behind The Most Awesome School Pep Video Ever!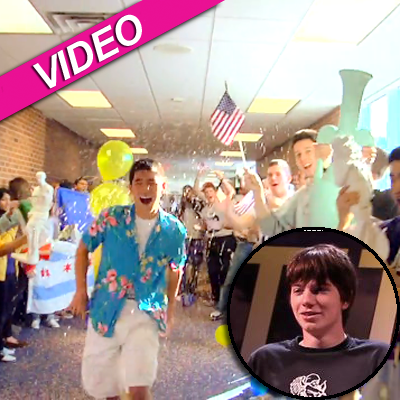 Radar Senior News Director
Look out Steven Spielberg!
Meet 17-year-old Connor Smith, a high school senior at Glenbrook South High School in suburban Chicago, who along with his fellow classmates recently created an amazing 12-minute music video to celebrate their school's history.
What makes the video so extraordinary is that the shoot took less than an hour last Friday -- was done in basically one long shot -- and involved thousands of students singing, dancing and even swimming in a highly choreographed production that would make even the kids from Glee say 'OMG!' (They even used a helicopter for the shoot!)
Article continues below advertisement
Connor -- who served as both director and executive producer of the video -- is the son of prominent Chicago attorney Terry J. Smith and Anne Kavanagh, a well-known Chicago TV journalist who now runs MediaPros 24/7, a successful public relations firm.
RadarOnline.com chatted with this uber-talented young man to find out how it all came together.
Radar: Where did the idea for the music video come from?
Connor: This year Glenbrook South High School, Glenview IL, is celebrating its 50th anniversary. We wanted to not only celebrate what GBS is in 2011-2012, but also pay homage to its history. We chose one song from every decade GBS has been open, starting back in 1962.
Radar: Did you have any trouble convincing your school's principal to let you do it? What was his reaction when you first approached him?
Article continues below advertisement
Connor: The idea for this whole thing came from the mind of our student activities director, Dr. Jim Shellard. He was determined to make this happen and spent countless hours pitching the idea to administrators in the school. By the time he approached me, he had already gotten permission and was ready to make it happen. I think everyone was surprised though by just how big of an event it turned into.
Radar: How many kids took part in it?
Connor: The whole school was involved, which is about 2,700 kids. Everyone was assigned to go somewhere either with their class or with an activity they participate in.
Radar: How long did you rehearse it?
Connor: We rehearsed with only camera and tech for countless hours, getting to school at 5 a.m. and staying there until 10 p.m. We also spent a lot of time rehearsing with the singers. We only had one practice "dry run" with the whole school before we shot the whole thing. The final version is our first and only take.
Article continues below advertisement
Radar: Is the video all one single shot?
Connor: Up until the underwater sequence, the video is one shot. We hid two cuts on either side of the underwater scene so we could switch to a waterproof camera. The sequence on the football field with kids spelling out GBS was shot simultaneously with the one long take at the beginning. We had one chance to get that beginning part right.
Radar: How long did it take to do the shoot?
Connor: We had a shortened schedule the day of the shoot which gave us 40 minutes to basically shut down the school and get it shot. 40 minutes is not a lot of time and it was incredibly stressful trying to get everything done in this amount of time. As soon as it was shot, we ran back to our TV studio and began editing. It was shown to the whole school 2 hours later!
Radar: The camera is constantly moving, zig-zagging through the school -- that must have been very challenging.
Article continues below advertisement
Connor: We knew that technically we would need some type of camera stabilizer to allow us to run up and down stairs without the shot getting shaky. We bought something called a glidecam with a steadicam vest. This equipment is incredibly difficult to use and is usually only operated by professionals, but my classmate, John Paul O'Rourke with the help of Kevin Mathein, managed to master it in only a few days. It certainly brought the production value up to a whole new level.
Radar: What was the most difficult part of the shoot? Was it the sequence involving underwater shooting in the school's pool?
Connor: Actually, the underwater part was the easiest. We shot that part on a different day, so we had plenty of time to do multiple takes. The most difficult part was definitely trying to get the first 8 minutes right in one take because we knew we wouldn't be abe to do it again.
Article continues below advertisement
Radar: Did you really use a helicopter for some of the shots? How did you possibly arrange for that?
Connor: We did use a helicopter! The school has a contact that rents helicopters who we have used on other occasions (for pep rallies, etc). My TV teacher, Mr. Mark Ferguson, was the one up in the helicopter. He described how his seat belt came undone within the first minute of flight and he was so scared that he held onto the helicopter for dear life the rest of the time while trying to shoot the action with one hand.
Radar: It really must have taken a team effort to pull this off so well!
Connor: This was a gigantic effort that no one person organized. Every teacher and club sponsor in the school came up with something great to do and on the day of every kid was excited about it. Everything came together because of this incredible cooperation!
Radar: Do you plan to pursue a career in film and/or television in the future?
Connor: I definitely plan to pursue a career in film and/or television. There are so many exciting opportunities in the industry that I hope I can one day be a part of!