Exclusive
'Jose's Adultery Killed Me For A Long Time,' Reveals Hollywood Ex Jessica Canseco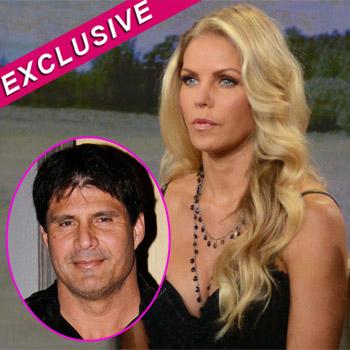 Article continues below advertisement
Former baseball star Jose Canseco's ex, Jessica Canseco joins forces with Nicole Murphy, who was married to Eddie Murphy, Andrea Kelly, ex-wife to rapper R. Kelly, Sheree Fletcher, ex-wife of Will Smith, and Mayte Garcia, ex-wife of Prince.
While she now gets on so well with her shamed MLB player hubby that he even appears on the show, Jessica told RadarOnline.com that she struggled when intimate details of their personal life were thrust into the headlines, including his 1997 arrest for allegedly hitting her.
"The biggest issue with Jose was his adultery. That killed me for a long time, I blamed myself and didn't know why he was cheating, I didn't understand it," she told RadarOnline.com in an exclusive interview.
"He was my first love and I was so young when I met him, that was hard for me. Then as time went on he wrote a book and talked about the process, then of course whatever he does, they attach me to," explained the beautiful blonde.
Article continues below advertisement
"I'd be out and about and get asked, 'Tell me about Jose and his steroids.' Do I have to talk about Jose's cheating and his drugs forever?"
Thankfully, time does heal all wounds and not only are they on good terms co-parenting their 15-year-old daughter, Jessica but Jessica now even defends her wayward ex.
"I can talk bad about him, but I don't want anyone else too!" she laughed. "I understand him, it's been tough all the things we've been through, but at least we can talk about them openly and we've gotten past a lot of it to be friends now. I wish him the best of luck because if he does well, then I do well," she said candidly.
Nicole Murphy agreed that life after marriage to an A-list star such as the Beverly Hills Cop comedian can certainly have its own unique set of challenges.
"Everywhere you go you might see his photo on a billboard, or a bus might go by and he's on the side of it. You can't get away from them!" she revealed to RadarOnline.com.
"It was weird in the beginning when we broke up but now it's all good and we're both quite happy.
Article continues below advertisement
"Eddie and I are friends; he's my babies' daddy so we speak to each other and have a great relationship and I think that's important when you have children involved. We can be in the same room and hang out, it's all good!"
As the show's title reveals, all the costars have high profile Hollywood exes, and Nicole explained that while she was "the glue" that brought them all together, the common bond helped them get on.
"All of women have been similar situations where we've all been married to high profile men. We can connect on different levels and can experience some of the same things. Andrea turns on the radio and R Kelly is playing or Mayte hears Prince playing in a store.
"You get used to it and it becomes part of your life. I am not complaining because I have had a great and happy experience with my ex-husband and I have no regrets," she explained.
Article continues below advertisement
R. Kelly's wife of 13 years, Andrea, said she doesn't even describe them as friends because their relationship supersedes it. "Because my ex-husband and I aren't a couple does not mean we're not a family, there's a difference," she told RadarOnline.com.
The Kelly's marriage survived accusations of underage sex, allegations of child porn and a well-publicized court case during which R. Kelly was found not guilty, before they divorced in 2009 and the former dancer said having a high-profile break up is tough.
"It makes it a little harder because people come with these preconceived notions of why you got divorced and they have a preconceived notion of why you got married in the first place.
"It doesn't upset me because everyone knows that in a break there are three sides -- my side, his side and the truth, and the truth needs no defense," she explained.
The next episode of Hollywood Exes airs on VH1 Wednesday at 9 p.m. ET/PT.