Celebrity Fight Night Contestants Tareq Salahi & Jose Canseco Face Off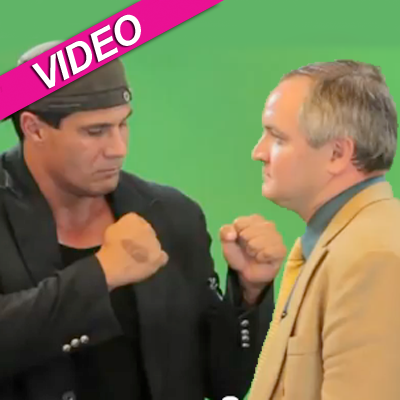 They have not even entered the ring yet and already Tareq Salahi and Jose Canseco already looked like they were about to come to blows on Thursday as they met to promote their upcoming fight, and RadarOnline.com has video of the stand-off.
The notorious White House gatecrasher and shamed former baseball player will be gloving up and coming to blows in the upcoming Celebrity Fight Night boxing competition on November 5 to raise money for several children's charities.
Article continues below advertisement
When the infamous pair met on Thursday, Salahi began the unusual news conference by holding up his iPhone and showing the audience a photo.
"After I found this picture of Jose and my wife taken about five years ago, I am ready to take this man down. I had no idea that my wife has been lying to me every single day of our lives," he said.
"So I am fighting for anyone who is against cheating, be in my corner and I am gonna take down Jose. So watch out Jose, I'm coming after you man!' he told the crowd as they cheered enthusiastically.
Salahi's taunts referred both to his wife, Michaela, who recently ran off with Journey guitarist Neal Schon, and the steroid cheating scandal that got Canseco shunned from the baseball community following his revelations about steroid use in the sport.
Later, Salahi and Canseco posed together and the MLB player was ready to spar, while the reality TV star, who was dressed in a beige jacket and mustard tie looking more like an insurance salesman than a boxer, just stood there limply.
Article continues below advertisement
"Put up your hands," demanded Jose, as Salahi held up his phone and asked, "You tell me, what are you doing here?" as he pointed at the photo.
"What the f**k is going on here?" asked his confused opponent. Crews on the shoot had to hold them back from each other as Jose lashed out about the accusation.
Michael Lohan Joins Hollywood's Most Notorious Stars For Celebrity Fight Night
"You know what, I'm gonna tell you about your f**king wife!' as he stormed off saying he would see him "in the ring," and then screamed, "F**k you, kiss my a**!"
Later, Jose told interviewers: "I don't think he knows what he's getting himself into."
The pair have just a month to go before they can vent their issues in the ring, they will be joined by other scandalous match ups and the line-up for the five-card bout reads as follows:
Michael Lohan vs. Kato Kaelin
Coolio vs. Jeremy Jackson; Joey
Buttafuoco vs. Amy Fisher's husband, Lou Ballera
Article continues below advertisement