Tareq Salahi Parties With Notorious 'Manhattan Madam' Kristin Davis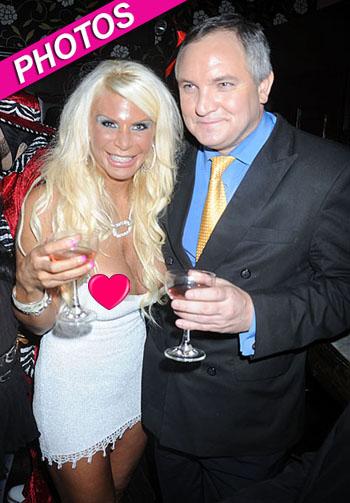 Tareq Salahi seems to be rapidly getting over his split from wife Michele. The so-called White House Gatecrasher and former The Real Housewives of D.C. star spent Friday night partying with one of New York City's most famous residents, self-proclaimed Manhattan Madam Kristin Davis.
Tareq attended a birthday bash for the now-former madam at the Hotel Chantelle.
Davis, who had one nip slip after another -- sometimes two at a time! -- at the event, became famous when she came forward as the madam who supplied escorts to a series of high-profile men, including former NY Governor Eliot Spitzer, who resigned amid the scandal.
Article continues below advertisement
She proudly boasted of a call-girl ring that serviced over 10,000 clients. In the wake of the Spitzer investigation, she was charged with prostitution and served a four-month sentence. She also closed her business and wrote a tell-all book about her adventures as a madam.
Tareq filed for divorce from Michele earlier this month, citing in his legal papers an "adulterous relationship" as the reason.
The man in the middle is Journey guitarist Neil Schon, who Michele has been seen kissing and hugging on several occasions since she ran off from Tareq.
MORE ON:
Celebrity Justice