Rielle Hunter On Elizabeth Edwards: The 'Wife As Innocent Victim' Image Untrue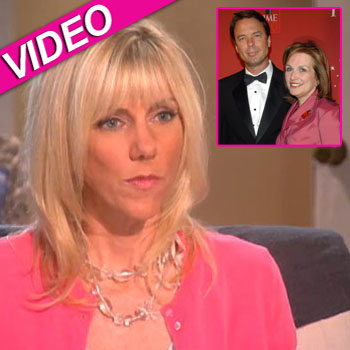 In her new book What Really Happened, Rielle Hunter expresses little remorse about sleeping with a married John Edwards, and dishes out details about what it was like being the other woman pitted against John's loyal wife of 30 years, the late Elizabeth Edwards.
Excerpts of the tell-all appear in People magazine this week, and it's clear Rielle feels little guilt about the adultery, insinuating she met the politician at a time his marriage was on the rocks anyway.
Article continues below advertisement
"Because there wasn't any physical or emotional intimacy between Johnny and Elizabeth, I had absolutely no jealous feelings about her," Rielle writes, adding "the 'wife as innocent victim' did not match the reality," as the pair had a fractured relationship.
Rielle wrote their marriage was "filled with issues that clearly neither Johnny nor Elizabeth wanted to address. They did not want to disclose the truth to themselves, much less the public."
Rielle reasoned Elizabeth should have been wise to John's cheating because of her own desolate love life.
"If you aren't having sex with your partner," she explains, "chances are high someone else is."
Rielle said she first met Elizabeth at an event in North Carolina in late 2006, and Elizabeth did not look her in the eye "and appeared to be frightened.
"I felt really bad for her," she writes.
If you're looking for sentiments of guilt about the affair, this book isn't for you.
Article continues below advertisement
"I felt miserable for Elizabeth and what she must be experiencing," she wrote, "but my loyalties were with Johnny."
Rielle said John told her that Elizabeth repeatedly pressed him about how he could be drawn to someone like her.
"The honest reply, 'She makes me happy,' was not received without punishment" from Elizabeth, Rielle writes.
As we previously reported, the book is full of tawdry details about their trysts, as well as the bombshell that John told Rielle he'd hooked up with at least three other women in cities across the country.
Watch the video on RadarOnline.com
Following a bombshell investigation by the National Enquirer, the two-time presidential candidate finally admitted publicly in January 2010 that he'd fathered a daughter out-of-wedlock with his former mistress. Shortly after his admission, John and his late wife Elizabeth legally separated.
Elizabeth died that December after a 6-year battle against breast cancer.
What Really Happened hit stores on June Tuesday, 26; an interview Hunter and Chris Cuomo airs on ABC's 20/20 Friday at 10/9c.