Jacqueline Laurita Fights With Teresa Giudice, Calls Her 'Fake, Fake, Fake'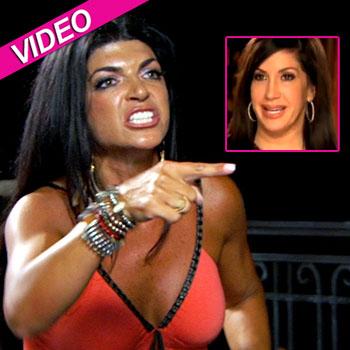 Teresa Giudice can't get along with all of the people all of the time.
The reality star took steps back and forward on The Real Housewives of New Jersey Sunday, smoothing things over in one relationship while throwing gas on the fire of another, and we've got all the details for you right here on RadarOnline.com.
First, the bad: Teresa's still at odds with Jacqueline Laurita over a few petty slights that boiled out of proportion, and the tension erupted at a record release party for castmate Melissa Gorga.
Article continues below advertisement
While Teresa and Jacqueline were going at it, Melissa stepped in to play peacemaker, only to have Teresa tell her that she's at the root of the problems after letting former castmate Danielle Staub in on a number of family secrets in 2010.
Jacqueline reminded Teresa that the slights occurred "two years ago," to which Teresa snapped at her, "So what? If that was your sister-in-law ... this is my sister-in-law, my sister-in-law! Thank you, goodbye!"
A miffed Jacqueline cursed at Teresa, before grousing to her husband Chris: "I've never seen someone lie so much in my life, to pretend to be someone she's not ... I can't be friends with someone who is fake, fake, fake."
As for the good: With nearly everybody on the show having a beef with her, Teresa's decided it's time to mend fences with her brother Joe Gorga by going to therapy with him.
This did not sit well with Teresa's uber-macho husband Joe, who told his wife he's "embarrassed" that she'd be so weak to need therapy.
Article continues below advertisement
Watch the video on RadarOnline.com
"I hope it works out for you," Joe said, adding "As far as I'm concerned, Joe Gorga's not your brother anymore, he's your sister."
As for Teresa, while she says that while going to therapy "goes against my family values," she's "hoping that the therapist will help my brother realize that he's the one with the problem.
"I know I haven't changed," Teresa said. "I know I'm the same person that I've always been -- and if anything, more understanding!"