Teresa Giudice Battles With Jacqueline Laurita Over 'Jealous' Relatives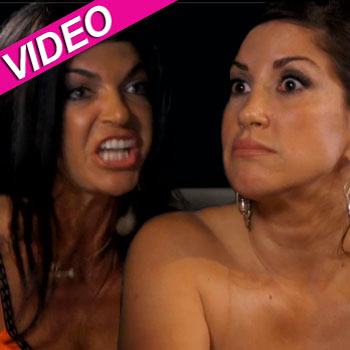 Article continues below advertisement
Teresa fires back though saying she "didn't do anything to her. She was probably going f***ing crazy in jealousy. I never did jack s**t to her. I never did anything to her or my brother or to her kids. I loved her kids more than anything. I put them up on a pedestal."
But when Jacqueline asks her why her family are so bitter, Teresa screams, "What! Frickin jealousy! Why do you think? It's spelled out – are you kidding me?"
"If my brother knew I maliciously tried to hurt him, he would have my head," the fiery brunette shouts in defense of Jacqueline's accusations she was on a vendetta to harm Melissa, who's married to Teresa's brother Joe Gorga.
Both women then go steely silent when Caroline Manzo, who is currently embroiled in a bitter feud with Teresa, walks towards them asking what all the shouting is about.
And, fireworks fly yet again after Jacqueline also accuses Teresa of planting stories about herself in the tabloids and covering up her financial troubles.