John Travolta Makes First Public Appearance Since Gay Sex Scandal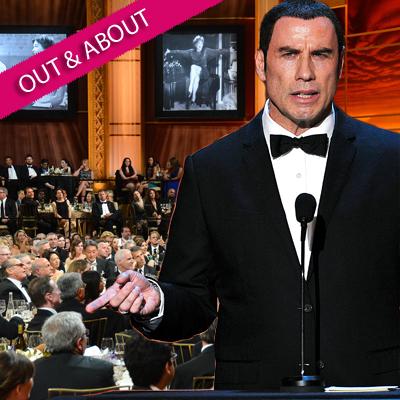 John Travolta -- still reeling from a gay sex scandal -- made his first public appearance Thursday night since being accused of sexual misconduct with two male massage therapists.
The 58-year-old Pulp Fiction star was among several celebrities who spoke at the American Film Institute's tribute to Shirley MacLaine in Los Angeles.
Travolta didn't sit in the audience, but rather only appeared on stage to sing the praises of the iconic, Oscar winning actress.
Article continues below advertisement
In his remarks, Travolta said, "Several years ago, Warren Beatty was talking about a young actress. And I said to him, 'What was she like?' And he said, 'She filled the room with presence like I've never seen before.' And I said, "You know your sister, Shirley? She fills the room with presence.'" Travolta then added, "She fills the world with presence like no one I've ever seen before. And that's my Shirley. And I love you."
"Shirley MacLaine is first a dancer, and when you move from Broadway to film to television to writing to directing, you have to move to these things with the grace of a dancer. To train and push harder than you ever thought you could."
As RadarOnline.com has previously reported, in addition to allegations from two male massage therapists that the actor made unwanted sexual advances towards them, the National Enquirer is reporting in its current issue that the Grease star had a six year gay affair with his pilot.
Article continues below advertisement
Travolta and Doug Gotterba were lovers in the 1980s, Travolta's former secretary and Gotterba's ex boyfriend told the Enquirer.
Joan Edwards was Travolta's secretary from 1978 to 1994 and is the first ex-employee to publicly say the actor is gay. "I did everything for him, including taking care of his personal and professional schedules. Of course I knew he was gay. It never bothered me," she is quoted as saying.