Exclusive
Former Toddlers & Tiaras Star Quitting Show! 'My Family Was Being Destroyed' Says Mom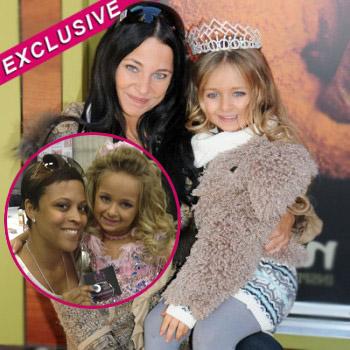 Although she'll still compete in pageants, former Toddlers & Tiaras star Isabella Barrett is quitting the TV show, RadarOnline.com has exclusively learned!
The little cutie patootie took the world by storm just one year ago when she appeared on the pageant scene, but while she skyrocketed to fame, her family suffered.
"I quit!" Isabella's mom Susanna Barrett said, following a tumultuous year that has almost torn their family apart.
Article continues below advertisement
Following a viral video being released of Isabella at an event singing I'm Sexy and I know It, the family was barraged with negative criticism.
"Isabella received endless attention for all the wrong reasons, and it caused competitiveness between my daughters and arguments with my husband, my family was being destroyed."
Susanna said the family originally did the show to build the confidence of their daughters, but the backlash was intense.
"We never needed money or fame is offering. I have written a children's book, raised thousands of dollars for animal charities, been voted business woman of the year three times in the State of Rhode Island, but now when people see me and my family they think scandal. Who profited from our pain? Not me. I was mentally and physically exhausted."
Susanna said that she was the one responsible for getting her daughters into pageants, but she said being on the hit TLC reality show "took my quiet suburban family and turned it upside down, and my life as I knew it was ruined. I used to walk through my supermarket proudly, but now I hear whispers and my children and my marriage have suffered."
Article continues below advertisement
So adorable Isabelle isn't going to be competing in child beauty pageants anymore -- at least now on TV -- and her mom says that's a move that has given her a sense of control over her family again.
"While we are ready to say goodbye to this show, Isabella still gets recognized, and while I've gotten very good at dealing with the haters we are happy to leave it all behind us. I've taken control back, and I find it empowering."
Isabella was one of the biggest surprises at the MTV Movie Awards where she was promoting her anti-bullying campaign and jewelry line with the likes of Shaunie O'Neal, DJ Pauly D, and Terrell Owens — and in two weeks she will be in the Windy City doing an anti-bullying event with the Chicago Mob Wives and her new spokesperson campaign, Joi Dolls Inc.
RELATED STORIES:
Toddlers & Tiaras Tumbler: Pageant Star Falls FOUR Times On Stage!