Christie Brinkley And Ex-Husband Agree To NEVER Speak Again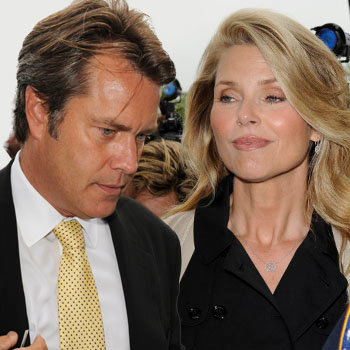 Supermodel Christie Brinkley and her ex-husband, Hamptons architect Peter Cook, have fought ceaselessly over their two children since their acrimonious divorce six years ago.
There seemed no end in sight with neither party willing to yield, but over the weekend - just when a public trial seemed to be the only, messy answer - they reached an agreement, and RadarOnline.com has the details.
Article continues below advertisement
And the only thing they've been able to draw a consensus on in half a decade is that they should NEVER speak to each other again!
After Brinkley's accusations of a smear campaign from Cook, and his assertion that the pin-up used her family drama to drum up publicity for her Chicago stage return, it's hardly surprising.
The pair, who divorced six years ago after Cook confessed to an affair with an 18-year-old woman, have both agreed to a 'no verbal' contract.
Instead, Brinkley, 58, and Cook, 53, will get a 'parent coordinator' to organize all arrangements with their daughter Sailor, 14 and son Jack, 17.
Even this rare moment of agreement between the pair couldn't stop them trading blows through different mediums, however.
Cook's lawyer, Jim Winkley, wrote in a statement obtained by the New York Post: "Mr. Cook has also secured a parenting coordinator, something he has sought, and Ms. Brinkley has refused, for 4 years."
Article continues below advertisement