Peter Cook Slams Ex Christie Brinkley: 'I Am Shocked By Her Blatant Lies'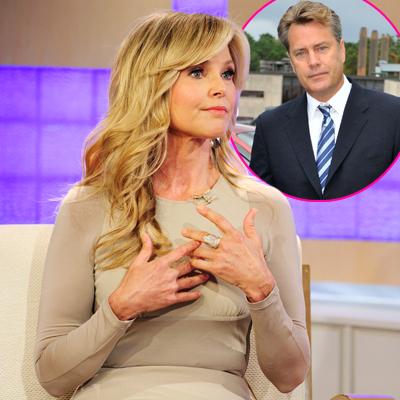 The 'War of the Roses' just got even more thorny.
Only one day after Christie Brinkley choked back tears on the Today show talking about her nasty split from hubby Peter Cook, he's issued a statement calling her "dishonest."
Cook issued a sharply-worded statement Wednesday, saying, "Christie was entirely dishonest about the circumstances surrounding the current court action which was precipitated by her and ... is doing further damage to our children ... I am also shocked by the blatant lies she told regarding our divorce proceedings of four years ago, including denying the indisputable fact that she fought for an open courtroom despite the warnings it would harm our children."
Article continues below advertisement
Cook also refuted Brinkley's assertion that he is a "deadbeat dad," saying, "She does not want peace, she wants attention."
Cook also said Brinkley still wants revenge on him for cheating with a then 18-year-old Diana Bianchi, adding, "Clearly, Christie does not believe I was punished enough four years ago for my indiscretions in our marriage, but for the sake of our children I wish she would find a way to move on."
As RadarOnline.com previously reported, The 58-year-old model broke down while talking to Matt Lauer on the Today show Tuesday, saying this is the first time she has spoken out in four years and that she "just wants peace."
"Since the day that he realized that I wasn't coming back, there has been a real character assassination going on. I asked for and got a confidentiality agreement with the original divorce. I alone have maintained the confidentiality agreement," Brinkley told Lauer.
Article continues below advertisement
"I had offers for a sympathetic show from Oprah, Jeff Zucker offered me an hour on primetime. Everybody asked me to come on. I did not want to do it… I have turned the other cheek. There's not one quote from me anywhere."
Brinkley noted all the press Cook has done regarding their divorce and said it hasn't been easy.
"I have never gone on a TV show. Peter went on Barbara Walters, he went on Geraldo Rivera, he went back on Geraldo Rivera, he went on Good Morning America. So let's ask him, why is he doing that?" she said.
"I have never taken part in name calling. The only thing that have ever said, after my second trial… I simply said as a public service: 'Google divorcing a narcissist.' Because I'm not alone. I've gotten hundreds of letters from women that are going through this. It's not easy."
The couple was together for 12 years and have a 13-year-old biological daughter together, Sailor, and also 16-year-old Jack — who Brinkley had with her second husband Richard Taubman, but was later adopted by Cook.