Peter Cook Slams Ex Christie Brinkley: 'She's Throwing Her Family Under The Bus'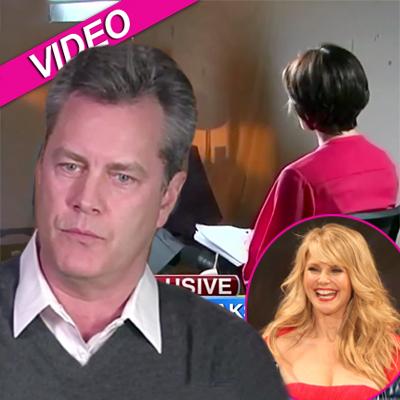 If you thought the bad breakup between Christie Brinkley and Peter Cook couldn't get any uglier, think again.
Cook -- who went through a scandalous divorce with Brinkley in 2008 -- tells ABC News the former Uptown Girl is throwing her family "under the bus" to promote her return to Broadway.
"She can use her celebrity to get the media to say 'He's a bad guy.' You know … I'm not trying to sell tickets to anything. I don't want this press. I'm not interested in it. And there's got to be a better way for her to do it. Go do a charitable act or something, get your name in the paper. But stop throwing your family under the bus," Cook, 53, tells Elizabeth Vargas in the interview which was taped Tuesday, but aired Wednesday on Good Morning America.
Article continues below advertisement
Cook also says he believed Brinkley, 58, made public their latest court fight over terms of their divorce agreement "to coincide with her return to the stage in (the Broadway musical) Chicago."
Watch the video on RadarOnline.com
"I don't know how you can ever rationalize your way out of fighting to have this private family matter become so public. And children will live with it forever," Cook complained. "I mean, it used to be 40 years ago, it was in the newspaper and it ended up under a bird somewhere. But now it's Google eternity. This will never go away for my children."
The couples' war of words was re-ignited last November when both Brinkley and then Cook filed court papers -- Brinkley accused Cook of violating their divorce court ruling by sending her "aggressive" emails and called Cook was a deadbeat dad while Cook said Brinkley owes him money and labeled her a "narcissistic egomaniac." He also said he was the primary caregiver for the couples' two children (Jack, 16, and Sailor, 13) while she moved to New York City to perform on Broadway.
Article continues below advertisement
Cook claims Brinkley has scheduled activities for their kids during time when they're supposed to be with him.
"I plead with her lawyers to please tell your client to schedule on her own time. She's required to tell me about doctors' appointments. She's required to tell me about dentist appointments. She's required to keep me on equal footing. And she does none of it. I get nothing. I get no respect as a father until it's time to ask for a check," he said.
"The real victim in this is not me," he added. "It's the kids, who have to have this re-hashed and brought back in the public eye over and over and over again. It's unnecessary. I'm a good father. I love my kids. I accept my responsibilities with my children. I accept my legal responsibilities to her. I follow the rules and all I ask is that she do the same thing," he added.
Cook also asked that if Brinkley thought he was such a bad guy, why would she leave the children with him while she went off to do Broadway?
Article continues below advertisement
"Which is it? Am (I) the villain that you're going to publicly castrate, as she's doing currently in the press? Or am I the good dad? Because in a few weeks, she's going to surrender the kids to me again, full time. But it can't be both," he said. "And that's unfair to the kids, to be doing this to their father."
Following the interview, Brinkley's attorney, Tom Campagna, released a statement in response. It reads: "Peter Cook has repeatedly broken the confidentiality agreement that Christie has continued to uphold. Peter is the only one to go on national television spewing sexist, disgraceful, demonstrably false lies, which gives a taste of what Christie has had to endure since Peter betrayed his marriage vows. Peter embarrassed himself and hurt his family by having an affair with a teenage girl and admitting to an extensive pornography habit.
"While Christie, a single mother who has been the sole provider for her family, was working on Broadway, he refused Christie access to her children on her one day off. Four months ago, Christie quietly asked the court for Peter to fulfill his child support obligations, and most importantly, to uphold the anti-harassment order preventing his pattern of intimidation and smear campaigns. Sadly, he has chosen to make this his own self-serving publicity tour without regards for his children," the statement continued.
Article continues below advertisement
Campagna also said that Brinkley has sole custody of the children, and anything suggesting otherwise was "delusional."
Brinkley filed for divorce after Cook confessed to cheating with 18-year-old Diana Bianchi and then paying her $300,000 to keep the affair quiet; he also admitted to watching pornography online during their marriage.
Cook told ABC News he regrets settling in the divorce because he never got his side of the story out and that he's determined to see this through to trial.
"I settled to try to make peace and try to make things easier on my kids and it's thrown back in my face again," he said. "And so this time I'm not going to allow it to happen. I'm going to let the judge, going to let everybody see what's been going on and make their own decisions."
radar_embed service=5min.com src=" http://pshared.5min.com/Scripts/PlayerSeed.js?sid=1126&width=486&height=412&playList=517713567&sequential=1&shuffle=0"