Peter Cook Slams Christie Brinkley: She Lied, Dredged Up 'Crocodile Tears'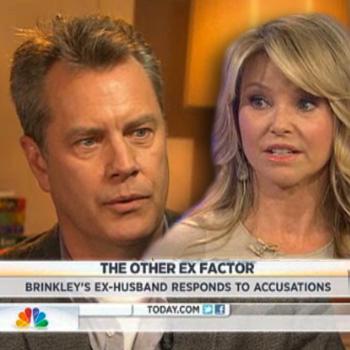 Article continues below advertisement
"I thought it was horrible she could sit and shamelessly lie to our children again on national TV about the events surrounding this current issue," said Cook, referring to a pair of court filings and accusations from each side of violating the confidentiality agreements in their 2009 divorce.
Cook -- calling Brinkley's cries mere "crocodile tears" -- said the "interview was a lie where she claims that I am harassing and bullying her on a daily basis; so this perception that I am harassing and bullying her is nonsense."
Cook, 53, said he hasn't spoken to Brinkley, 58, in more than four years, or emailed her in two years, so he's unsure how he could have bullied her.
As for the attention-seeking, Cook says it's Brinkley who likes making their dirty laundry public fodder in hopes of resurrecting her fading fame.
"There is no Peter Cook press machine," he said. "I have no interest in the press. I'm not a celebrity. You don't hear about Peter Cook until Christie Brinkley dredges something up from the past to make herself relevant in the media again."
Article continues below advertisement
After Brinkley called Cook a narcissist in Tuesday's interview, Cook said while he can't deny the claim, he said Brinkley herself is a narcissist, as well.
"Narcissism makes you focus attention on something," he said. "You can either be focused entirely on yourself ... and you can also focus your energies on your child and say, 'I'm always thinking, I'm thinking ahead of what they're going to need.'"
Brinkley and Cook share two children: 17-year-old Jack, Cook's adoptive child Brinkley had with her second husband, Richard Taubman; and 13-year-old daughter Sailor. Cook said the public fighting is "terrible" for the kids.
Cook, who married Brinkley in 1996, admitted he's probably not taking the best tack by going on TV to discuss the bad blood.
"If I were a role model, I would just sit back and keep taking the beatings and bruisings," he said. "I want peace. I want peace for my family. I want peace for myself. I want to be able to do my job, see my kids and live without the Christie Brinkley shadow over me. That's all I ask."