Shelf-Butt! Bethenny Frankel Utilizes Coco's Most Enviable (And Real!) Asset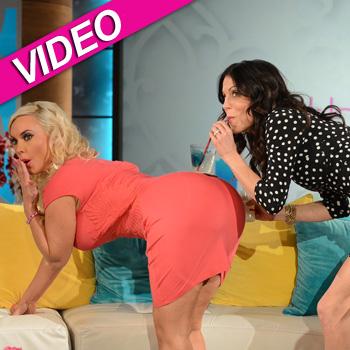 It's the first week of Bethenny Frankel's new talk show, and already she is tackling the most burning issues in the world – like whether or not Coco's booty is real!
On Thursday's Bethenny, the former Real Housewife has Ice-T's bootylicious wife as a guest on her show, where she not only chats with the heavily endowed reality star about her famous backside, but she also examines it with her own hands and finds a novel new use for it – and RadarOnline.com has a sneak peek clip of their outrageous encounter.
Article continues below advertisement
"I need to see this thing," Bethenny tells Coco as soon as she sits down on her couch.
Coco stands up and shows off her larger than life asset, jiggling it in her hands.
"It's ok to have little dimples, girls. I've got them," Coco reveals. "Ok. In my mind, I'm a skinny girl, but I know I'm really not. But in my mind, I got it."
When Bethenny questions the authenticity of Coco's bountiful booty, the bombshell blonde confirms that it was a gift of mother nature.
"It is real," she asserts. "This is real. Of course it was smaller when I was in my teenage years. So everybody looks at pictures and they're like, it's not as big as it is now. But, I'm 33. I'm a woman. I gain weight."
To see Coco on Bethenny's show, tune in on Thursday, check local listings for time.
In the meantime, feast your eyes on the clip below: