Don't Mess With Mrs Ice! Coco Blasts Back After Cosmo Calls Her 'Skanky'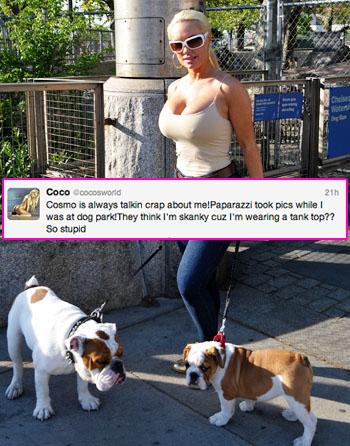 Don't diss Coco!
The bootylicious Ice Loves Coco star is blasting back against Cosmopolitan, after the fashion magazine referred to her as "skanky" in one of their stories – and RadarOnline.com has the details.
In their monthly feature 'Sexy vs. Skanky' the lusty publication targeted Ice-T's wife for her sexy dog-walking style.
"Showing your pups while walking your dogs," they listed under skanky, with a photo of the 33-year-old in a tight tank top and skinny jeans with her precious pooches Maximus and Spartacus.
Article continues below advertisement
"Cosmo is always talkin crap about me! Paparazzi took pics while I was at dog park! They think I'm skanky cuz I'm wearing a tank top?? So stupid," she Tweeted on Wednesday.
The bikini bombshell followed up her statement with a racy photo of herself clad in sexy gold leather and lace lingerie, with another slam at Cosmo.
"Pic of the day!!! Screw Cosmo Magazine!! Keep talking crap..i know my own power..Ladies at Cosmo need to embrace theirs!"