Indecent Exposure! Celebrities Who've Committed Fake Boob Fashion Faux Pas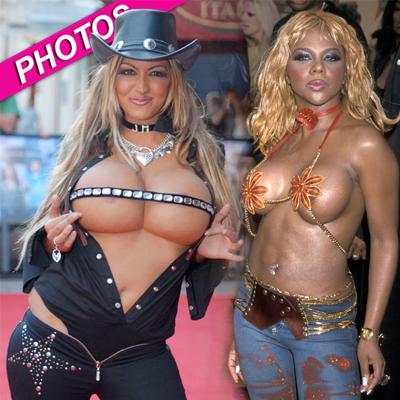 Celebrities will go to any lengths to flaunt their fake boobs on the carpet, even if it means committing indecent exposure acts!
From too small tops to slippery straps, Hollywood stars have experienced their fair share of fashion faux pas when it comes to covering up -- and failing to cover up -- their breast implants. RadarOnline.com has photos of the 10 worst fake boob fashion blunders on the red carpet.
Article continues below advertisement
Will Tara Reid ever live down her infamous boob exposure incident? The American Pie star went down in fashion hall of shame history when she revealed her not-so-fantastic new plastic boobies at a swanky soiree a few years ago.
Boobilicious and blonde, Coco and Pamela Anderson are shameless about showing off their plastic surgery, managing to make barely-legal bikinis look conservative with their overtly sexy and boob-baring red carpet fashions.
Jordan, aka Katie Price, and Jodie Marsh are two Brit blondes who have made names for themselves by having larger than life artificial assets – and exposing them to all extremes every chance they get.
What other stars have committed fashion faux pas by exposing their fake boobs on the red carpet? Find out by clicking here.