Bethenny Frankel Talks Ellen: 'She's Not Remotely As Inappropriate As I Am'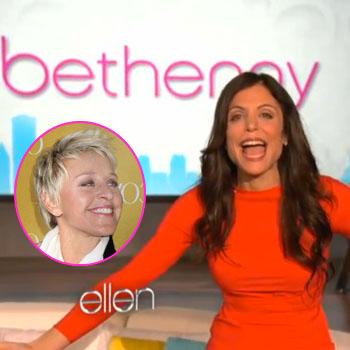 Bethenny Frankel is gearing up for the launch of her new talk show, and she's promising it's going to be pretty, pretty racy!
As RadarOnline.com previously reported, Ellen DeGeneres will serve as an executive producer on the show, but don't compare the two. Bethenny's show will be different because "Ellen is not remotely as inappropriate as I am," the reality star quips.
Bethenny has proven she's the ultimate powerhouse when it comes to her business decisions. She has mastered branding herself with signature cocktails, skincare, fitness DVDs, self-help books and shapewear. Not to mention she has provided juicy drama and entertainment for millions with her stint on The Real Housewives of New York and her recent show Bethenny Ever After, but she's not done yet. The "Skinnygirl" will now launch her own talk show June 11 on select Fox owned stations
Article continues below advertisement
In the Summer issue of Michigan Avenue magazine, Frankel gives fans an insight into her life before the spotlight and how living in Chicago was a turning point that helped get her to where she is today.
"I really didn't know anybody," Bethanny said (who moved to the windy city to follow her then fiancé who lived there). "I would go to East Bank Club and try to stretch my workout as long as I could, just to have something to do during the day," she recalls, "You could really kind of hang out there. I don't have any place like that in New York. It was a transitional time.
"I really didn't know what I wanted to do with my life. But I knew it was time to hit my stride."
She also dishes on her relationship with her former idol Martha Stewart in the upcoming issue.
"I definitely never got close with her," Bethanny admitted. "But she's a woman whom I respect greatly. I think Martha likes being intimidating; she likes being powerful. She didn't get where she is by being warm and fuzzy. She runs an empire. I know it can make you a little grouchy."
MORE ON:
Bethenny Ever After
Article continues below advertisement
As for being a mom while juggling several projects at once, she tells the magazine, "I'm able to be with her for every meal, every bath. I'm there when she wakes up from every nap.
"I think that's definitely what my definition of success is."
And of course, she dishes on her new show, which is scheduled for a six week test run. Bethenny does have a celebrity guest wish list that ranges from Lea Michele (A Twitter pal), Denis Leary (a client from her old personal-chef days), Bobby Flay (she almost interned with him), Charles Barkley (they have been to a "boot camp spa" together) to Mike Tyson and Snoop Dogg.