Take That Cosmo! Coco Flaunts Her 'Pups' After Slamming Fashion Mag For Calling Her 'Skanky'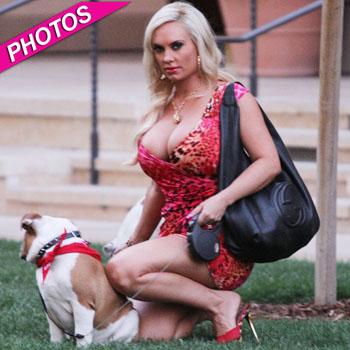 It's her body, and she will show it off if she wants to!
Ice-T's heavily endowed wife, Coco Austin, is proud of her curves, and not bashful about showing them off in the skimpiest of dresses. After expressing outrage on Wednesday over Cosmopolitan magazine calling her 'skanky', the reality bombshell went out of her to flaunt her famous assets in a skintight and impossibly revealing leopard print dress, and RadarOnline.com has the photos.
Article continues below advertisement
Coco was the life of the party as she joined her husband of over a decade at Mastro's Steakhouse in Beverly Hills, with her artificial assets almost spilling out of her flimsy summer style.
In their monthly feature 'Sexy vs. Skanky' Cosmo slammed Coco for her sexy dog-walking style in their latest issue.
"Showing your pups while walking your dogs," they listed under skanky, with a photo of the 33-year-old in a tight tank top and skinny jeans with her prided pooches Maximus and Spartacus.