Exclusive
What Are Bath Salts? Behind The Drug That Created A Face-Eating Cannibal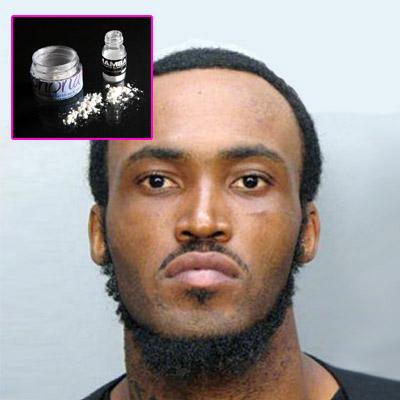 By Debbie Emery - RadarOnline.com Reporter
While they are still awaiting toxicology reports confirming what potent drugs the face-eating "zombie" was on when he ripped the flesh off his victim, investigators suspect that Rudy Eugene had taken a synthetic substance dubbed "bath salts."
Behind the deceptively innocent name is a highly dangerous drug that is sweeping across the country in an extreme epidemic that has caused such alarm that the Drug Enforcement Agency has introduced a temporary year-long ban of the three main chemicals in an effort to curb its production.
Article continues below advertisement
"We've been talking about these synthetic cathinones for a long time," DEA spokesperson Barbara Carreno, told RadarOnline.com in an exclusive interview. "The chemicals that have been made temporarily illegal and designated Schedule 1 controlled substances are mephedron, methylone and MDPV – but they are the ingredients, not the products themselves.
"The challenge with synthetic drugs is that any good chemist can tweak their molecular structure and formula and you have a new product, which isn't illegal," she explained. "It is hard for the law to keep up with them."
As RadarOnline.com previously reported, the Miami Dade police believe that 31-year-old Eugene was under the influence of bath salts when he was discovered on May 26 lying naked on top of homeless man Ronald Poppo eating his face in a gruesome Silence of the Lambs-style rampage, before a Miami police officer shot and killed him.
An eyewitness exclusively told RadarOnline.com that they saw Rudy walking the streets of Miami a week before the attack, naked. "He was just walking the streets as if it were normal to be totally naked," the source said.
Article continues below advertisement
Although it has not been proven that he was on bath salts, emphasized Carreno, the symptoms such as stripping off because the body temperature sky-rockets, violent behavior and unnatural strength are all side effects of these new manufactured drugs.
"What is being reported is that these drugs are stimulants or hallucinogens - some are fake Ecstasy, some purport to be fake Meth or LSD," she told RadarOnline.com. "Others are like PCP, where the users become incredibly strong."
The growing number of startling incidents related to the drug led to the chemicals being placed under control last October, with emergency rooms across the country being filled with patients suffering from dangerous symptoms such as agitation, paranoia, seizures, rapid heart rate and high blood pressure.
Rather than being confined to big cities like Miami or Los Angeles, "it has spread all over the country. There have been violent crimes and deaths everywhere including Minnesota and Oklahoma," said Carreno.
Article continues below advertisement
The most frightening thing about the new narcotic epidemic is that these dangerous products aren't sold by dealers on street corners, but instead are widely available at liquor stores, gas stations, and head shops and in order to know exactly what is in each package you have to seize them from the store and have them tested in a lab.
"These are not good people who distribute these drugs. And they are drugs – they are not 'bath salts,' they are not 'plant food,' they are drugs, the names are just a cover," emphasized Carreno. "And the people who take them know they are drugs. They snort them, inject them, take them orally or put them on their tongue.
"There are a lot of people who take them that don't understand the full effect, and for a lot of parents, synthetic drugs are just not on their RadarOnline.com and they don't understand the risks."
Rather than arresting minor users, the DEA's role is at the highest level, trying to deal with people who manufacture and distribute these drugs, she explained. "We go after drug trafficking organizations here in America and overseas," but now that all the formulas are available on the internet, it is easy for copycat chemists to create their own.
Article continues below advertisement
"These drugs start out as legitimate chemicals for legitimate reasons and then when they are circulated 'entrepreneurial' people get hold of them and all they are concerned with is making money, no matter what it takes."
A 50-milligram packet of the white powdery bath salts reportedly sells for $25 to $50, and is also known by street names like "Ivory Wave," "Vanilla Sky," "Bliss," and "Purple Rain."