Ted Nugent Loses It On Camera, Swears Obscenities At Reporter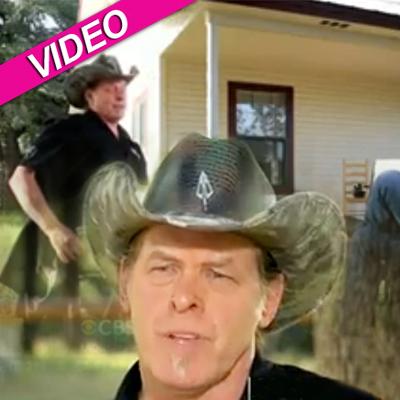 Radar Entertainment Editor
Right-wing rocker Ted Nugent has been under fire lately, and in a shocking new interview, he absolutely loses it, screaming  graphic profanities at a male reporter and a female news producer!
The controversial conservative singer did his first sit-down interview since his tirade against President Barack Obama that resulted in a Secret Service inquiry, but he ended up screaming at the reporter in a vicious tirade.
Article continues below advertisement
When CBS reporter Jeff Glor said that Nugent could not be considered a political moderate Nugent started yelling.
"I'm an extremely loving and passionate man, and people who investigate me honestly, without the baggage of political correctness, ascertain the conclusion that I'm a damn nice guy. And if you can find a screening process more powerful than that I'll  s*ck your d*ck!"
Nugent then shouted more obscenities at the off-camera female producer Molly Kordares, screaming "Or I'll f*ck you, how's that sound?"