Exclusive
Taylor Armstrong & Brandi Glanville 'Dirty Dancing' With Women!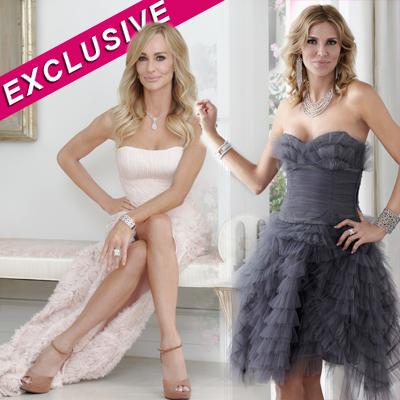 Article continues below advertisement
During an episode last season, the cast went to Maui for a birthday party for Kyle Richards' husband and Brandi admitted on camera that she had taken Xanax and had been drinking. Glanville certainly appeared to be under the influence during the episode and was slurring her words.
"Recently, whenever Taylor and Brandi have had too much to drink they begin to dance extremely suggestively and extremely provocatively with other women. It's very embarrassing to watch, because it's so obvious that it's only being done by both women to get attention. It's sad to think that the only way they feel they can get attention is to behave in such a brazen manner. They both need to grow up already. They are both mothers and aren't college co-eds," a source close to the situation tells RadarOnline.com.
Meanwhile, as RadarOnline.com previously reported, Glanville is becoming the new mean girl on the reality show. "Brandi has been extremely chummy with Lisa Vanderpump this year," a source close to the situation previously told RadarOnline.com. "She just doesn't seem to be in a good place right now and she has been definitely hitting the bottle a lot harder this year during filming, which is cause for concern.
Article continues below advertisement
"Brandi becomes much more aggressive when she drinks and she is turning into the new mean girl on the show. It's hard to tell if it's the alcohol that is the cause for the drastic mood changes, if it's just Brandi trying to be provocative, or if she feels pressure to act a certain way during filming."
"What is absolutely obvious is that Brandi is extremely insecure and very unhappy. it's truly sad to see," the source said. "She is a totally different person than she was during the second season and it's not for the better."