Basketball Stars Get Inked! The Worst Tattoos In The NBA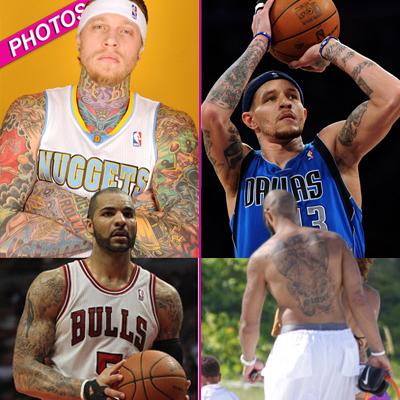 Basketball stars are not known for their subtlety either on or off the court, so why would their choices in body art be any different?
From state maps to screeching dragons, this artwork is outrageous enough to capture the attention of fans no matter how close the game is! So in honor of the excitement of the NBA Playoffs, RadarOnline.com has a summery of the worst tattoos in the sport.
Article continues below advertisement
With his crazy Mohawk, screeching and arm flapping and myriad of colorful tattoos including "Free Bird" wrapping around his neck, Chris Anderson of the Denver Nuggets is hard to miss on any court.
While they get traded from team to team, many players want to pay homage to their home towns but Udonis Haslem from the Miami Heat went the extra mile with the entire map of Florida on his back, and Oklahoma City Thunder player Nate Robinson set his sights a little smaller and stuck with just the Seattle skyline.
Los Angeles Laker Matt Barnes began his expansive collection of artwork when he was in high school, much to the dismay of his late mother, who he has since honored with a large angel tattoo on his stomach.
Other outlandish etchings can be spotted on J.R Smith, Delonte West, Stephon Marbury and Chris Bosh, and RadarOnline.com has details on them all -- from the wacky and weird to the downright scary!