Metta World Peace Apologizes For Blatant Hit; Suspension Looming?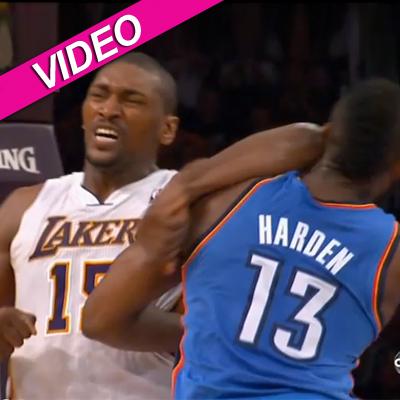 Metta World Peace is apologizing after leveling Oklahoma City's James Harden with an elbow during the second quarter of his Los Angeles Lakers' 114-106 win over the Oklahoma City Thunder Sunday.
"I got real emotional and excited, and it was unfortunate that James had to get hit with the unintentional elbow," the 32-year-old forward formerly known as Ron Artest said. "I hope he's OK. Oklahoma, they're playing for a championship this year. I apologize to the Thunder and James Harden. It was just unfortunate."
Article continues below advertisement
In the clip, you can see World Peace smash the back of Harden's head with his left elbow. Harden did not rise for a minute, and World Peace was swiftly ejected from the game. League officials are expected to announce further recourse in the incident this week. World Peace could miss playoff time for the Lakers, as the NBA regular season wraps up this week.
World Peace later took his mea culpas to Twitter, writing, "Hope James Hardin is ok... I remember when I was hit by Marc Gasol the same way.. I was spitting up blood and a headache during the game... I just watched the replay again..... Oooo.. My celebration of the dunk really was too much... Didn't even see James ..... Omg... Looks bad. Wow.. Didn't really think Kendrick Perkins broke my nose.... Super sore... Basketball too emotional ......."
World Peace, then an Indiana Pacer, was famously suspended for 86 games after jumping in the crowd during a brawl at the Palace of Auburn Hills in November 2004.
World Peace was the first contestant booted from Dancing with the Stars last fall.
Watch video of Metta World Peace's flagrant foul below:
MORE ON:
Dancing With the Stars
Take a look at footage of Metta's 2004 brawl below: