Exclusive
Kris Humphries Has Written Proof He Was Set Up To Be 'The Bad Guy' On Kim Kardashian Show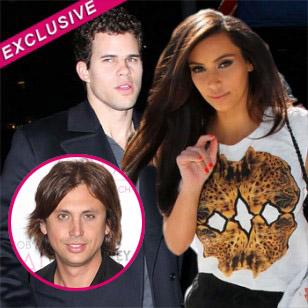 By Jen Heger - RadarOnline.com Assistant Managing Editor
Kris Humphries. is claiming he has proof that producers of Kourtney & Kim Take New York set him up to be "the bad guy" on screen , citing an example where he was told to quiz soon-to-be ex-wife, Kim Kardashian's BFF, Jonathan Cheban, about his sexuality, RadarOnline.com is exclusively reporting.
The incident sparked an outcry from Cheban, who subsequently accused Humphries of homophobia and went public with his threats of a lawsuit, more proof, the NBA star believes, that Kim's life is a series of set-ups and make believe and that their relationship, and 72 day marriage, was a total sham.
Article continues below advertisement
"Kris' lawyers plan on asking Kim when she is being deposed about producers of the reality show telling Kris in an email to ask Jonathan about his sexuality," a source close to the situation tells RadarOnline.com. "Kris has written proof that he was instructed to ask Jonathan the very personal question, and they will be presented with this evidence during her deposition. It's Kris' contention that this only further provides proof that this relationship was far from real -- he was set up by producers to ask the question -- then made to look bad -- and the entire scenario was staged, it was methodically planned out, just like the rest of their time together it seems."
During the controversial episode, Humphries is shown expressing concern that Kardashian is spending so much time with Cheban and says that he would have an issue with it if Cheban is heterosexual. In a later scene, Kris pointedly asks Cheban's female friend during a double date, "Did you think Jonathan was gay when you first met him?" He then goes on to quiz Cheban directly about his sexuality. Humphries is subsequently seen apologizing to Cheban the next day, saying he just wanted to get to know his wife's best friend better.
Article continues below advertisement
"Here are the facts, Kris would have never asked Jonathan if he was gay or not, without being told to do so," the insider tells RadarOnline.com. "He especially wouldn't have asked that question with the cameras rolling because he would never want to embarrass anyone or cause any awkwardness."
As RadarOnline.com previously reported, Humphries' divorce attorneys want to depose Kardashian on camera, which the reality TV star is vehemently opposed to.
"Dates for the upcoming deposition are being discussed between the lawyers and of course, Kris' team is being told that Kim is extremely busy with shooting for the upcoming season of Keeping Up With The Kardashians," the source tells RadarOnline.com. "Kris suggested that Kim bring her camera crew along to the deposition, then, problem solved!"
A rep for Humphries had no comment on our story.
RELATED STORIES: