Exclusive
Kris Humphries To Kim Kardashian: Did You Forget Our $325k Ferrari Wedding Gift?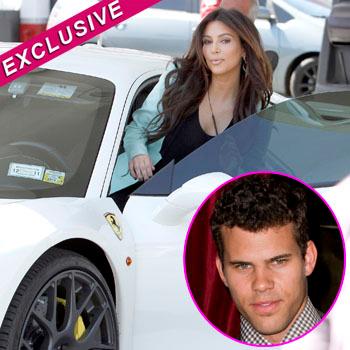 Article continues below advertisement
However, Kris hasn't forgotten, and although he has no intention of asking for the car his attorneys do intend to question Kardashian under oath as to why she didn't include the value of the expensive sports car when she tallied up the cost of their wedding gifts.
As RadarOnline.com previously reported, Kardashian recently announced that she was going to be donating some of their wedding gifts to charity, along with making a contribution to a charity of her choice for double the value of the gifts, instead of sending the presents back to those who purchased them.
"Kris' lawyers are going to ask Kim why she didn't include the Ferrari in the wedding gift total when she made the donation to the charity of her choice, for which she also received a tax deduction," a source close to the former couple tells RadarOnline.com. "Kris was at Kim's house when the Ferrari was delivered and the car was absolutely meant for both of them even though Kim has retained ownership and control of the car. Kim loves the car and drives it all the time. Kris doesn't care about the car, but would have appreciated being consulted after the couple initially split about what was going to be done with the wedding gifts."
Article continues below advertisement
Furthermore, Humphries claims that their wedding gifts were valued at much more than the $100k figure Kim estimated. "The total of their wedding gifts, not including the $325k Ferrari, was around $400k. When you include the value of the Ferrari they actually got over $700k in total in wedding presents, so Kim should have donated a lot more to charity that the $200k she claims she has," the insider says.
Meanwhile, Lee Hutton, Humphries' lead divorce attorney who is based in Minnesota, will formally ask the divorce judge on May 5 to allow him to represent Humphries in the California based proceedings.
"This divorce is absolutely going to trial, there will be no settlement. This isn't about money, Kris just wants the truth to come out," the insider says.
Kim's rep tells us that the Ferrari wasn't a wedding gift, and Kim bought the car herself.