David Letterman & Conan O'Brien Mock Jay Leno On Late Show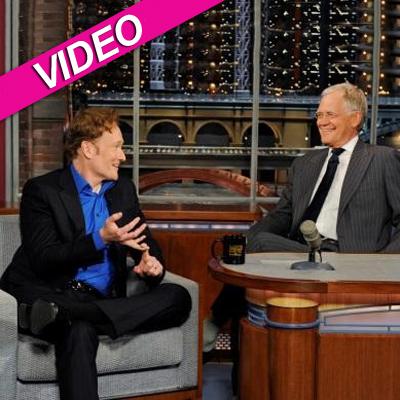 David Letterman and Conan O'Brien got into an impromptu roast of Jay Leno on Thursday's Late Show, and RadarOnline.com has the clip for you.
Of course, both men have the dubious distinction of losing the Tonight Show to Leno: Letterman after a power struggle in the 90s, and Conan after he was yanked off in 2010 following a poor ratings start with NBC's iconic franchise.
Letterman didn't waste any time getting to brass tacks, taking a long pause when Conan walked out before saying, "The longer we sit here, the more uncomfortable it'll make Jay."
Article continues below advertisement
Letterman told Conan how when he saw the events of 2010 unfold, he could only think to himself, "Oh yes, this is the Jay I know."
Letterman asked Conan what his relationship with Leno was like "before the felony took place."
Watch the video on RadarOnline.com.
Conan said he rarely spoke with Jay, aside from the "occasional phone call," as they have very little in common.
At that point, they both launched into meandering impressions of the Tonight Show host.
MORE ON:
hollywood happenings
Article continues below advertisement
Ashton Kutcher: 'Charlie's Character Is No Longer With Us'
Conan said he's in a good place personally and professionally.
"I feel terrific, I really do … I'm very lucky to get to go on television and to get to do my thing my way, and TBS lets me do whatever I want. They don't watch it, they don't care. Checks come in … and I have a great time.
"We took all of our people with us, so everybody is happy, so I'm thrilled. It worked out. I'm a lucky person."