Conan O'Brien Makes First Appearance On NBC Since Leaving The Tonight Show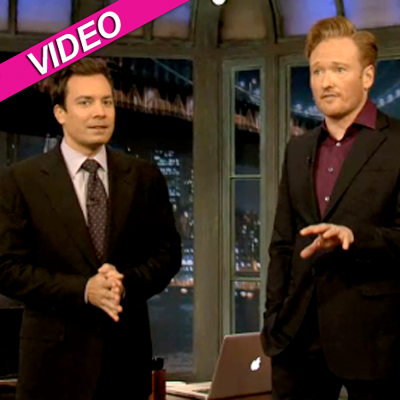 Conan O'Brien made a surprise appearance on Jimmy Fallon Wednesday night, his first on NBC since leaving the helm of The Tonight Show last year.
O'Brien inhabited what is now Fallon's New York-based studio for 16 years, prior to moving to Los Angeles for his ill-fated Tonight Show gig.
He entered to a huge wave of applause from a shocked studio audience.
"This is unbelievable!" Fallon said. "Conan, what are you doing here?"
Article continues below advertisement
O'Brien responded, "You know I was out in New York, I decided to drop by and check my old studio."
Fallon said, "You were here for 16 years and then ... what happened?"
"Don't you worry about that," O'Brien said. "It worked out fine."
O'Brien said that since he was in the neighborhood, he forgot something he left there when he returned to Hollywood: his old comedy bit prop, Triumph the Insult Comic Dog, which he retrieved from Fallon's set.