George Lopez Goes Out With A Bang -- And A Toast With Pal Eva Longoria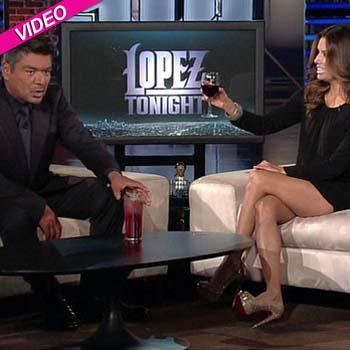 By Adam S. Levy - RadarOnline.com Staff Writer
Late night host George Lopez held little back in the final edition of his TBS late night show Thursday.
In his last monologue, Lopez went for the gusto, cracking jokes about President Barack Obama's bi-racial background (peppered with the word "Motherf***er"); complaining (through a character in a bit) there are few jobs for Latinos on TV; and having his band serenade the crowd with an uncensored version of Cee-Lo Green's F**k you on the segment outro.
Article continues below advertisement
George's first guest was gorgeous Eva Longoria, who appeared in the show's pilot. The beauty, who's primed to film her final season of Desperate Housewives, sipped on a glass of wine while Lopez nursed a cranberry juice (though Eva joked he reeked of Tequila).
"When we started the show, we were both employed and married!" she joked, as both have split from their spouses since the show hit the air in the fall of 2009. (Lopez got divorced from his wife of 17 years, Ann Serrano, while Longoria famously split with San Antonio Spurs guard Tony Parker.)
Other guests on the show included former Guns N' Roses guitarist Slash; former talk show kingpin Arsenio Hall; and Los Angeles Lakers Derek Fisher and Ron Artest, among others.
As RadarOnline.com previously reported, in what seemed like a very abrupt decision, TBS announced on Wednesday that Thursday would be Lopez's last show.
The show, which moved back an hour from its' original 11 pm slot to make room for Conan O'Brien last year, had lost 40 percent of its' audience in its' second season, and was averaging a meager 546,000 viewers nightly.
Article continues below advertisement
The comic delivered an emotional farewell at the end of the show, thanking his guests and others who have helped him along in his career, including Sandra Bullock, who discovered him, launching his show biz career to new heights.
Watch the video on RadarOnline.com
"I never realized I could love people as much as I do now," Lopez said at the end of the show. "I want to thank Sandra Bullock, who 11 years ago, took a chance on me … I want to thank my fans who followed me from stand-up to my sitcom and to Lopez Tonight."
"It's been great ... next year in Jerusalem!"
Lopez tweeted following the show: "Let your New life begin call 1 800 get thin ! Thanks for all the love, I love you back !! In Las Vegas !! Guess the opening line tomorrow!"