The Bachelorette's Ashley Hebert Dishes On Ben, Bentley & Engagement Rumors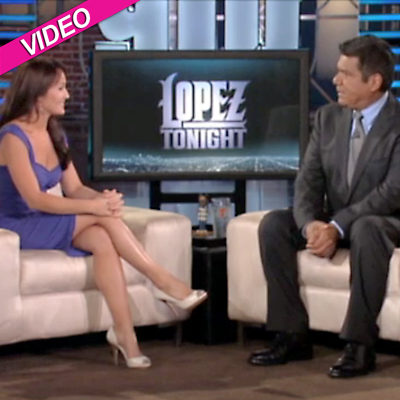 By Adam S. Levy - RadarOnline.com Staff Writer
A flirty George Lopez prodded The Bachelorette's Ashley Hebert about her evil suitor Bentley, her rumored engagement and the night she recently spent with Ben, one of the three remaining bachelors on ABC's reality romance.
"Are you worried what other people think?" Lopez asked the 26-year-old dentist Thursday about her all-night rendezvous with Ben. "Cause I don't think Ben returned to his location that evening."
Article continues below advertisement
"No, he did not," Ashley admitted, noting they had "separate rooms" in her defense.
"I was worried what the guys we're gonna think," Ashley said. "I didn't want people to think we had a premature overnight date."
"You didn't want them to think he was premature?" Lopez joked.
"I just realized when I said that ... you got me," Ashley said.
Lopez also brought up Bentley Williams, the would-be bachelor whose mind games and manipulations of Ashley have been a recurring storyline through much of the season.
"He played you a little bit," Lopez said.
"A little bit? He played me a lot!" Ashley said, claiming Bentley "kind of led me on through the whole process, and led me to believe he was interested when he was not."
Ashley said she "found out about Bentley's dark side when America found out," but she "forgave him a long time ago.
"We're just both moving on from it."
Watch the video on RadarOnline.com
As for the rumors Ashley's engaged: She didn't confirm or deny the allegations, though the dainty Bachelorette was quick to grace viewers with the cliché, "Don't believe everything everything you read in the tabloids!
Article continues below advertisement