The Office's Ellie Kemper Engaged!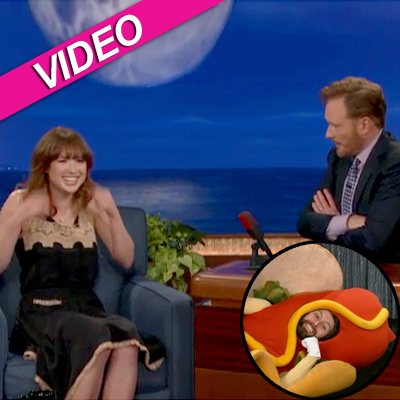 It's official: The Office beauty Ellie Kemper is engaged!
The 31-year-old redhead confirmed the great news Wednesday to Conan O'Brien, who has his own history with her husband-to-be.
"The guy you got engaged to is a very talented writer who worked for me for many, many, many years -- Michael Koman," O'Brien, 48, joked.
She told O'Brien, "My family likes him a lot. They've met him many times... my parents are very warm, welcoming people to begin with, but also, Michael's a delight -- so of course, they like him a lot.
Article continues below advertisement
"We were at Thanksgiving a couple of years ago, and my grandpa's this very tough guy. He started grilling Michael: 'What is your family like? What are your job aspirations? What are your goals in life?'
"And I think Michael kind of started to squirm," she said.
The actress told an amusing story about how her grandpa, who's a World War II veteran, used a "crusty" comparison to try and keep her options open.
"So we finished dinner and we went to the kitchen to have dessert. There was a pumpkin pie and a pecan pie out, and my grandpa said, 'Ellie, what kind of pie are you gonna have?' and I said, 'I don't know, grandpa. They both look really good. I think I'll have pecan.' He said, 'Are you sure, Ellie, because it's okay to keep your options open. You don't have to settle on a pie right now.'
"He was like, 'Who knows what other pies might present themselves? Maybe your mom has a blueberry crumple in the back. Maybe Mrs. Burke will stop by with an apple crisp,'" she said. "I looked at over at Michael who's stricken, because obviously, he thinks he's talking about Michael... having said that, my grandpa does like pie!