Exclusive
Rosie O'Donnell Engaged To Michelle Rounds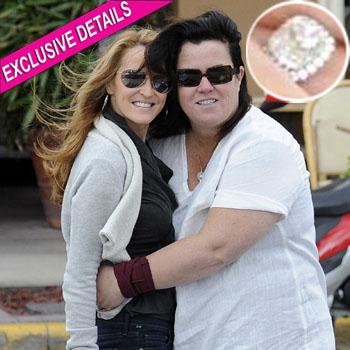 By Amber Goodhand - RadarOnline.com Reporter
Rosie O'Donnell is engaged to her girlfriend Michelle Rounds and RadarOnline.com has exclusively learned she already has the thumbs up from her kids.
According to a source, Rosie told her studio audience during a taping of her Rosie Show on Friday that she and Michelle would be exchanging vows over the Christmas holidays, Us Weekly reports .
After striking up a conversation with Michelle in a coffee shop just three months ago, the 49-year-old comedian has already fallen fast for the blonde beauty.
Article continues below advertisement
And while Michelle's parents have been outspoken about their distaste and shock at the relationship, Rosie's family couldn't be happier -- and that includes her ex-wife, Kelli Carpenter, who is dating cabaret singer Anne Steele.
"Kelli told me the kids have met and like Michelle," Rosie's former mother-in-law, Melanie Safer, told RadarOnline.com exclusively.
"Kelli is doing great and has a girlfriend, Anne, who the kids adore, too. They are very fortunate that Kelli and Ro have chosen such nice people to be with."
The exes are parents to adopted children, Parker, 16, Chelsea, 14, Blake 11 and Vivienne, eight, who was conceived by artificial insemination.
Rosie has spent the last month introducing Michelle to her celebrity world, walking red carpets and even appearing on talk shows together.
But when they first met, Rosie says she didn't plan on picking up the sexy IT company headhunter and actually thought she was straight.
Article continues below advertisement
"I walked into a Starbucks in the summer and she was holding a little puppy," she told ABC's Nightline. "I thought she was a 28-year-old heterosexual girl because that's what she looked like to me."
And discovering she was a lesbian came as a shock to Round's parents too who claim they had no idea she liked women until news of the romance broke.
Her dad, Roger, called the news both "painful" and "shocking."
However, Rosie's former in-laws are excited for her blossoming relationship with Michelle and expressed that they will all be spending the holidays together in New York.
"We'll all be together in New York with the kids for Thanksgiving and Christmas," Melanie said. "It's all positive and it seems like they're doing well. The kids are happy and adjusting really well."
RELATED STORIES:
Anne Hathaway Engaged To Longtime BoyfriendAnne Hathaway Engaged To Longtime Boyfriend