Rosie O'Donnell On Split With Girlfriend Kelli, Rage Issues, & Her New Talk Show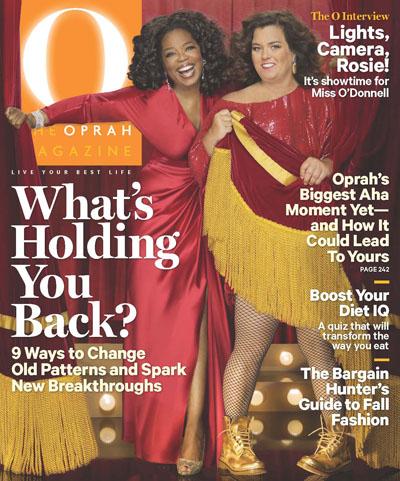 Rosie O'Donnell opens up to Oprah Winfrey in O, The Oprah Magazine about her split with Kelli Carpenter, how she calmed her rage, why she takes to being a mother-of-four, what led her to the OWN network and more in an in-depth Q&A between the talk show legends.
In the interview, O'Donnell opens up about her 2007 split from ex Kelli Carpenter, calling it "humbling" and "humiliating."
"In the O'Donnell family, no one had ever been divorced," the Exit To Eden star explained.
Article continues below advertisement
O'Donnell told a story about their conflicting lifestyles that ultimately led to their split.
"She wanted to play tennis at the country club, and I don't do country clubs. I tried," O'Donnell said. "They made an exception for a gay family, and we joined. It was a big thing: 'They let in a gay family – whoo!'
"So I show up to play with her, and somebody comes out and says, 'You can't play unless you have tennis whites.'"
O'Donnell told Winfrey that receiving estrogen treatments has helped her stop seeing red all the time.
"I had, like, zero estrogen. And since I got some, I've been able to function more normally," O'Donnell said. "I've stopped being so angry. You know, I think I had a lot more rage than I was aware of.
"But I've gotten back access to my other feelings. I'm not cut off from my emotions anymore."
O'Donnell held little back in discussing her four children, admitting that she often connects better with the young'uns than she does adults.
Article continues below advertisement
"The truth is, I'm a little socially awkward -- with adults, I still need Relationship 101. But I was always comfortable around kids and always wanted a family of my own.
"I would die for any of my children, and, more importantly, I would live for any of them."
O'Donnell returns to the air with the debut of The Rosie Show on OWN next month; Winfrey gave her prize acquisition huge words of praise, saying that "in 25 years of doing my show, only one competitor ever seriously challenged me in the ratings: Rosie O'Donnell.
"From the day Rosie took her place among the crowded field of talk show hosts, I knew she had the 'It' thing," Winfrey said.
O'Donnell returned the praise, admitting she passed on a network deal to hitch her wagon onto Oprah's brand.
"I was actually on the verge of signing a new deal with NBC, and -- this probably sounds kiss-assy, but it's true -- just before I was about to sign, I remember saying to my agent, 'Doesn't Oprah have her own channel? Can we call there?'