Lady Gaga More Powerful Than Oprah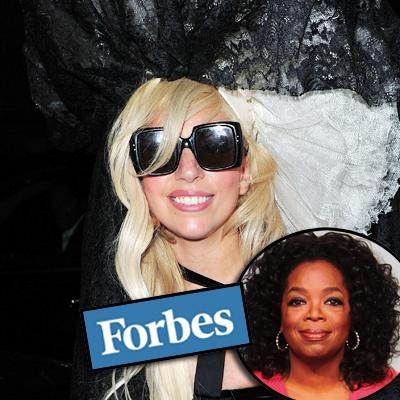 Move over Oprah -- Lady Gaga has been named the most powerful female celebrity in the world by Forbes!
The Born This Way singer, 25 , beat Oprah Winfrey, 57, on the annual World's 100 Most Powerful Women list compiled by the business and finance analysts.
While no showbiz stars made the top ten on the list, Gaga was the highest ranking celebrity, coming in at eleventh.
Winfrey -- the iconic former talk show host and now owner of the struggling Oprah Winfrey Network -- is placed at number 14, dropping from third place in 2010.
Article continues below advertisement
Gaga topped a celebrity-only version of the list earlier this year, with Forbes giving the reason as "not just because of her $90 million in earnings, but also because of her 32 million Facebook fans and 10 million twitter followers".
The top ten who made the list are comprised of politicians and businesswomen including German Chancellor Angela Merkel who came in at number one; others making the top ten include U.S. Secretary of State Hillary Clinton, Chief Operating officer of Facebook Sheryl Sandberg and Christine Lagarde, the Managing Director of the International Monetary Fund (IMF).
Other notable figures on the list include Britain's Queen Elizabeth II at number 49, supermodel and environmentalist Giselle Bundchen, who is placed at number 60, and Editor-inChief of Vogue magazine Anna Wintour, at number 69.
Forbes World's 100 Most Powerful Women list, top ten:
1. Angela Merkel, German Chancellor
2. Hillary Clinton, U.S. Secretary of State
3. Dilma Rousseff, President of Brazil
4. Indra Nooyi, Chief Executive, PepsiCo
5. Sheryl Sandberg, COO, Facebook
6. Melinda Gates, Cofounder, Cochair, Bill & Melinda Gates Foundation
7. Sonia Gandhi, President, Indian National Congress Party
8. Michelle Obama, First Lady of the United States
9. Christine Lagarde, Managing Director, International Monetary Fund
10. Irene Rosenfeld, CEO, Kraft Foods
RELATED STORIES: